New Volunteer Opportunity at Bullitt County Animal Shelter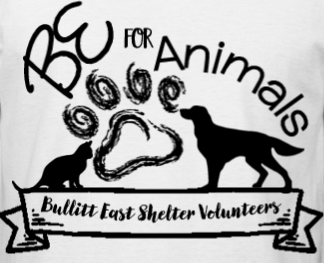 B.E. compassionate, B.E. kind, B.E. for animals.
Carrie Gary, a choir and HAVPA (History of Visual and Performing Arts) teacher, has created a club specifically for volunteering at the Bullitt County Animal Shelter called B.E. for Animals.
There will be an informational meeting tomorrow, August 23, before school at 7 a.m. and right after school, both gatherings will be in room 300. With new management and only five total employees, the Bullitt County Animal Shelter is in need of volunteers. Gary is hoping to make a difference by making this club that students can freely join.
The meeting Thursday will go over upcoming events such as adoption events and pet pictures with Santa, how often the club will gather and some other necessary information. Students who are younger than sixteen-years-old need an adult to be present while volunteering, while students older than sixteen-years-old only need a signed permission form to volunteer.  Gary is planning on having the club volunteer at least one Saturday a month. Time spent volunteering will count towards community service, or even a club depending on how many hours you spend volunteering.
"They have an adoption event at Kroger and I'd like to help with that. I was thinking we could go one Saturday a month since it'd be hard to do it after school because it closes at four," said Gary.
"I just want to help the shelter and help to keep it clean," said junior Emily Moats.
The primary purpose of the club is to help the animals. Before January of last year, the shelter would put down about 95 percent of animals that were given up. Now, only about 5 percent of animals are being put down, meaning that the shelter has to care for animals that they've taken in.
"Our animal shelter in Bullitt County has undergone a huge transition in the last year. Now, they only put them [animals] down if they're sick. " said Gary.
"I think it's a great idea, because it allows people who may not know how to volunteer at a shelter or can't get there to help them. I think it'll be successful because there's plenty of people who love animals and would love to help but just don't know how to," said sophomore Abby Troutman.
Now that teenagers under 18 can volunteer, Gary has been more active and has given animal lovers and those interested a chance to help the shelter and change the lives of animals.
"The reason I'm doing it is because I've heard people talk about it, and it used to be, when we had 10 houses, I was the headmaster of Muneris and our philamprothy was animals and we didn't go to the shelter back then because the director didn't want anyone coming and volunteering," explained Gary.
"I think this club is a very good idea. It can teach everyone that showing a little compassion once in a while can make everyone feel so much more appreciated and wanted," said freshman Kelsey Baker.
There will be an informational meeting tomorrow for anyone interested in this opportunity.