Fun Festivities for October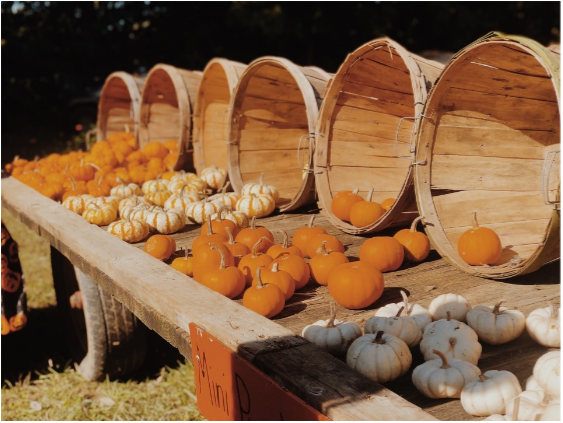 Hang on for a minute...we're trying to find some more stories you might like.
It's time to trick-or-treat and seek in October.
Although October is known for Halloween and trick-or-treating, there are many more festivities to do in the month.
Throughout the fall season, there are many fall festivities to do. Whether you go out and visit a site, make crafts, or bake sweet treats, you can find fun ways to get into the 'spooky season'. These fun activities are the perfect way to spend your month with friends and family.
Go to a pumpkin patch.
It is a tradition for some families to go to a pumpkin patch. Throughout the area there are many pumpkin patches that welcome all ages to buy pumpkins. A local pumpkin patch called Shady Lane Farms has been a big attraction in recent years for people to visit.
At Shady Lane Farms, visitors are welcome to a variety of pumpkins to choose from, animals to see, corn mazes, hayrides and many more amenities. Junior Carly Druien went to Shady Lane Farms to pick pumpkins with her friends. "I had a blast going to the pumpkin patch with my friends. It was my first time going to Shady Lane. I will definitely be back next year," said Druien.
After picking out a pumpkin, there are many activities that can be taken on to decorate your pumpkin. Painting and carving pumpkins is an easy way to make a pumpkin colorful and in theme for the season. If you have some time to spare, grab some friends and dress your pumpkins up.
Bake Halloween treats.
If you enjoy baking sweet treats, these halloween goodies will be perfect to bake for the month. Store bought cookies that have designs of pumpkins and ghosts are always popular this time of year. If you want to create some treats by scratch, try to search some creative recipes to try out on your own or with your loved ones.
Watch scary movies.
For many teenagers, the best part of October is Halloween and frightful movies. You can find some spooky movies on Netflix. Another source of Halloween movies is on ABC's "31 Night of Halloween". Each day, classic movies like Hocus Pocus or Halloweentown are broadcasted for everyone to watch. On October 19, the new movie Halloween will be out in theaters.
Go to a haunted house.
Throughout Louisville, there are many haunted house attractions that are a big hit to teenagers. "I love going to haunted houses with my friends. Even though we get so scared, we always make memories out of it," said Druien. A popular haunted house is the Field of Screams. This attraction site offers a haunted maze and hayride.They are open until October 27.
Have a bonfire.
A perfect way to bond with family and friends is to simply sit around a fire and make memories. During a bonfire, you can make s'mores and stay warm during the chilly month. Bonfires are very easy to start and there is not a lot of difficult steps to setting it up. If you don't want to go out, you can make a bonfire at home.
Overall, there are many fun festivities to do in the fall. If you don't know what to do in October, try out some of these ideas. These activities are eventful for family and friends. This season brings a lot of love and laughter to get prepared for the holidays.