Brangers Moving Up In The Ranks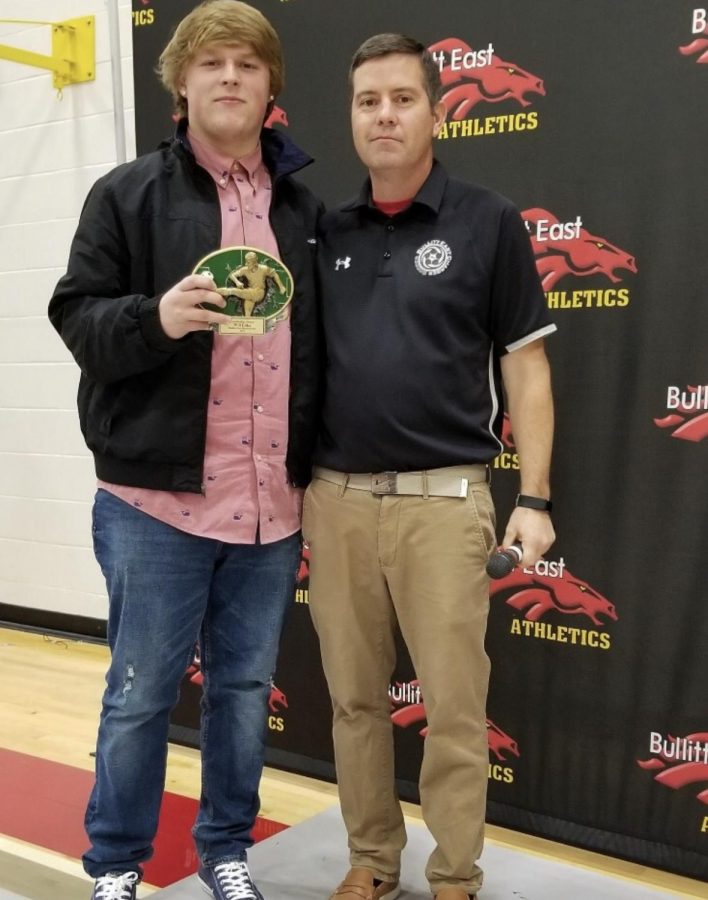 Kicking his way into the record books.
Mike Brangers is the head of the Bullitt East soccer team and he has moved into the top 30 for most wins by a coach in Kentucky.
Boys soccer coach Mike Brangers stepped up into the KHSAA top 30 coach's record book. With an outstanding career already under his name, he still has many years of coaching ahead of him. His years left highlight the  potential for him and his team to break more records.
One of the main reasons Brangers is a coach is because he wants to keep coaching his sons.He loves to be their coach because he thinks he can influence them and believes that it's a great opportunity. "Most people don't get to coach their kids, so I think it's a great opportunity,"said Brangers.
Some people would believe that being a head coach would cause a lot of struggles within the family. "You know in our family it's not really a struggle because I do coach my sons and my wife wanting to see them play. There is struggles but not many," said Brangers.
Brangers has been coaching for 16 years, but he has been the head coach for 15 years now. Throughout his career he has grown in  success. "I think my career here [Bullitt East] has been good. From us struggling to get out of the district in the past, we are getting out  now and our program is having kids go on and play at colleges." said Brangers.
Even with his record breaking year here at Bullitt East,  there are still struggles. The team struggles with teams, field maintenance, and off season training. "We always have to worry about Fern Creek or Bethlem. Our field maintenance is terrible. We only have two lights, where we could use four. Our field just isn't the best shape it could be in. But our off season training is different than other sports. Because of our kids playing with clubs during the off-season, we can't exactly workout,¨ said Brangers.
With him being the top winning coach in school history, he feels good. It's not everyday that this happens to someone. "I've been here since the first soccer team played. So yes it's a great accomplishment and it feels great to named under such a big title,"  said Brangers.
Senior Will Elder loved the opportunity he got to play for Brangers. He made so many memories and developed another family. "The soccer field was like my second home. I had so many fun times and developed relationships that will last forever. You never really realize how a sport can impact your life," said Elder.
The players even admire the coaches career. "Coaches career has been amazing. From getting into the top 30 coaches of all time in Kentucky and to being the most winning coach in BE history,"said Elder.
It's what Brangers does off the field that really impacts the players. He is like a father figure to most of them and he has always support his players on and off the field. "He supported me through my rough times. Which made me appreciate him even more." said Elder.
At the end of the day, being there for all his kids is what really matters to Brangers and not the amount of wins he has. Being a mentor to these kids is what is key to him.