Senior Wrestlers Inspire Underclassmen Wrestlers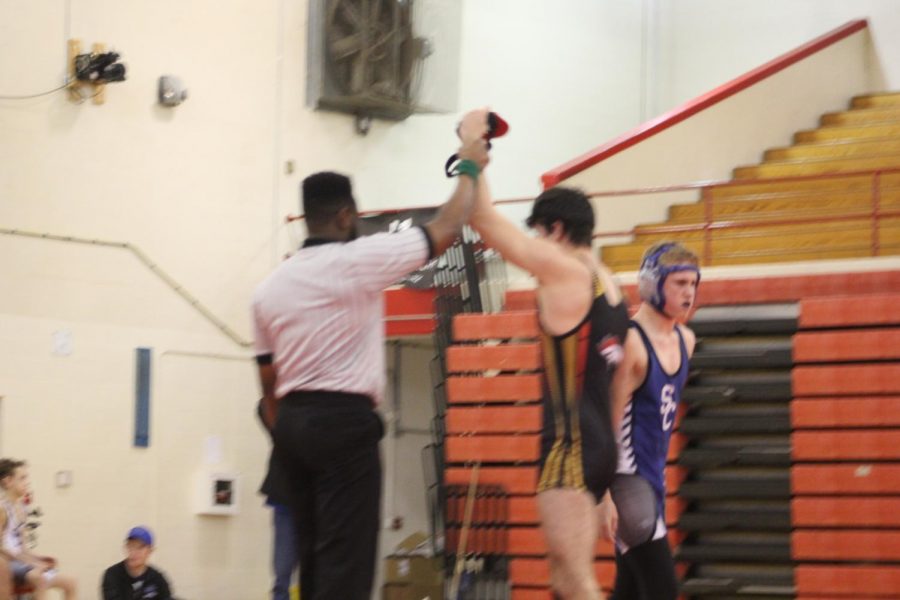 The seniors' hard work has become manifested in multiple competitions over the past couple of weeks, adding to the example they provide younger wrestlers to achieve the same successes.
Bullitt East appeared successful in the North Oldham Quad Dual on Jan. 16 when they beat South Oldham High School, but they subsequently lost to North Oldham High School. The Dragon Invitational competition on Jan. 19 gave Bullitt East the opportunity to secure fifth place.
Jan. 23 featured a win of 45-27 by Bullitt East against Spencer County High School in the senior night home match. The competition included a time for seniors to be acknowledged for their achievements as a Bullitt East wrestler, those seniors being Bryce Duerk, Jake LaFever, James Nash, Patrick Netherton and Tucker Wells. The win was expected due to not only the increasing amount of time devoted to practices by the members but also the intenser motivation for seniors as a result of it being their last home match. The ever-so-increasing work ethic by the team's members has both bettered their conditioning and allowed them to expand upon their attack styles. However, like every match indicates weaknesses with which to overcome, this match demonstrated their need of breaking technique habits because it is causing their moves to fail.
"Some boys still have technique habits to break and it just takes repetitive drilling and confidence to overcome. Some of their moves are failing because of these bad habits and not enough focus on their setups of moves before they try and execute them," said wrestling coach Tom Wells.
The seniors on the team were very deserving of their acknowledgement in that they have improved upon their techniques by their own efforts and adopted moves that suit their specific style and abilities and increase their chances of success in addition to their assumption as leaders on the team who will influence the younger members of the team to amount to their hard work. This increases the likelihood of all members of the team becoming a Regional Champ and subsequently a State Place winner, as the seniors' superior experience does not make them any more likely of winning the aforementioned titles than younger members, yet with it being their last year, they are still especially determined to achieve such an honorable win. The possibility of achieving these goals is ultimately determined by the amount of time and effort members spend training and truly trying to grow from the mistakes they make during each of their matches made known to them by the coaches.
One of the seniors, Netherton, who not only won his dual on senior night but has won various individual tournaments this season, is especially experienced in the realm of using his perseverance as a model to the younger members on the team. Although his initial motivation on the team was to win the competitions he was tasked and focus on his own personal improvement, he has made the realization this season, as it is his final year of high school wrestling, that contributing to the success of others is his main priority. Demonstrating how hard he works is key in achieving this.
"The main thing I'm proud of that I've accomplished as a wrestler is being able to train and inspire a new generation and breed of highschool wrestlers and this is because hopefully they will be able to go farther and succeed where I couldn't," said Netherton.
In the senior night match, Netherton emphasized the importance of using psych games to deceive and intimidate your opponent by getting into his opponent's head to beat his Spencer County High School competitor. Not only was he prepared physically in that he trained a lot in anticipation of it but he knew that preparing himself mentally would give him an advantage over his opponent. He nonetheless believes the team could have performed better if they went to the gym more frequently to gain more muscle and therefore a physical advantage over their opponent as well. This season Netherton has contributed to the accomplishments of the wrestling team, in addition to his individual achievements and contribution to others,' by teaching the team to act respectful and unintimidated by any opposing team, regardless of their size or state ranking. As Wells too has recognized that the stellar reputations of some opposing teams has caused a fear that undermines the team's performance, there has been an increasing need for an attitude transformation. "Our boys need to remain confident in their abilities and focused on being aggressive and wrestling to win no matter who steps on the mat to be their opponent that day," said Wells. In terms of his overall experience as a wrestler, his improvement over the years can be attributed to the strong work ethic he acquired throughout the process. Although he still feels like he can improve on the amount of time explaining and demonstrating moves, his main improvement has been in his change in intentions from working hard to achieve merely his own success to becoming the best athlete he can possibly be for the sake of helping others achieve theirs.
Although he is working towards becoming a Regional Champ and/or State Place winner with equally as much of a chance as the other seniors on the team as recognized by Wells, the remainder of this season for him will be spent trying himself physically and mentally to prove to himself what he is capable of with the proper determination. This will not only influence younger members of the team in that putting forth the same relentless effort can reap the same outcome as Netherton but that developing a growth mindset can result in success for any impediment or goal in life. "I'm in this sport for three reasons. One: to break, strain, tear, and challenge every aspect of my body and mind to prove to myself and others who I am. Second: to inspire others to be better than me, to surpass me if they can, to fight with everything they have as they have seen me do my whole wrestling career and never back down from any challenge or challenger. Third: because I love this sport plain and simple," said Netherton.
At a tournament in Fort Knox on Jan. 26, Patrick Netherton placed first, further demonstrating the effects of commitment on performance as well as the emphasis on the influence more experienced team members can have on the younger ones. Meanwhile, James Nash, Logan Wells and Sean Lohden placed fourth in their individual weight classes.