Upcoming Advanced Placement Testing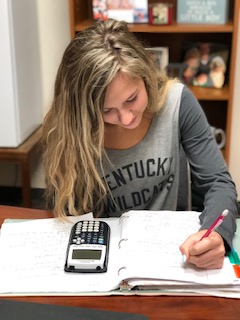 Hang on for a minute...we're trying to find some more stories you might like.
Spring for the best on your AP tests.
Along with the warmer weather comes AP tests.
Every year, students take Advanced Placement (AP) tests in attempt to receive college credit for their AP classes. Some students take multiple AP tests which increases the difficulty on passing. AP students can give some good advice on how to pass the test.
AP tests are used to determine if a student receives college credit for their advanced placement class. The scoring ranges from zero to five based on how many questions or writing sections you score well on. Any score that is a three or above is considered a passing score.
Typically students only take one or two AP classes because they are very difficult. However, some students choose to challenge themselves and take several. "I am taking four AP tests total. It is extremely overwhelming just thinking about all of the test prep that goes into building my confidence for all of these tests," said junior, Ryley Ortega.
Lots of outside work is not always needed to be successful on AP exams. "When I am asked by my mom if I have been studying for the AP exam I say, 'yeah I'm in the class everyday learning.' I don't believe you have to do outside work to pass the test. For example, last year for the AP world civ exam, I did no outside work. I just made sure to pay attention in class to retain the information. Doing outside work will help you though. However, for me it is not necessary," said junior, Zane Payton.
Science teacher Kenny Hughes has taught AP classes for thirteen years. "The amount of preparation depends on the student. All upperclassmen should have an idea of how to study in a way that benefits them the most. Ideally, they should be doing a lot of content review in the weeks leading up to the test as well as trying to review strategies to utilize on test day. My best advice if you're taking the exam is to prepare as much as possible," said Hughes. Hughes has taught AP Biology for those thirteen years and has taught AP environmental science for four years.
It is a known fact that AP exams are a little pricey. It costs $94 to take one AP test.  "I think it is somewhat unfair that students taking AP exams are essentially paying for a weighted Grade Point Average (GPA), and if they pass, college credit. To me it is worth it because I am competing to be in the top ten of my class. However, if it wasn't, all of the money is something I wouldn't even consider doing," said Ortega.
Despite the price, there are several long-term benefits students receive from passing AP exams. "If you pass you save a lot of money for college in the future. You won't have to take that class in college so that's less work for you as well. Also, even if you don't pass you get the weighted grade just for taking the class. Plus, it's just like the ACT. The more you experience you have the better you will be at taking the AP test," said Payton.
As far as long term advice, Ortega suggests to start studying earlier rather than later. "Do your reading required outside of class because all though is seems unnecessary, it will pay off in the long run. I started studying in February so that I wouldn't have to cram all kinds of information into my brain at once. This way I can take my time and get through everything I need to, considering I have multiple tests to study for," said Ortega.

If there is one thing students can do, it's give their full effort. "My advice to other kids taking AP tests is to try your best. It's not as hard as you think. Plus, there are many benefits for taking the test and if you do good you will save a lot of money in the future," said Payton. It can't hurt to try hard on the test because there are several benefits from passing in the long run.