Richardson's Drive and Dedication Follow Her Everywhere She Goes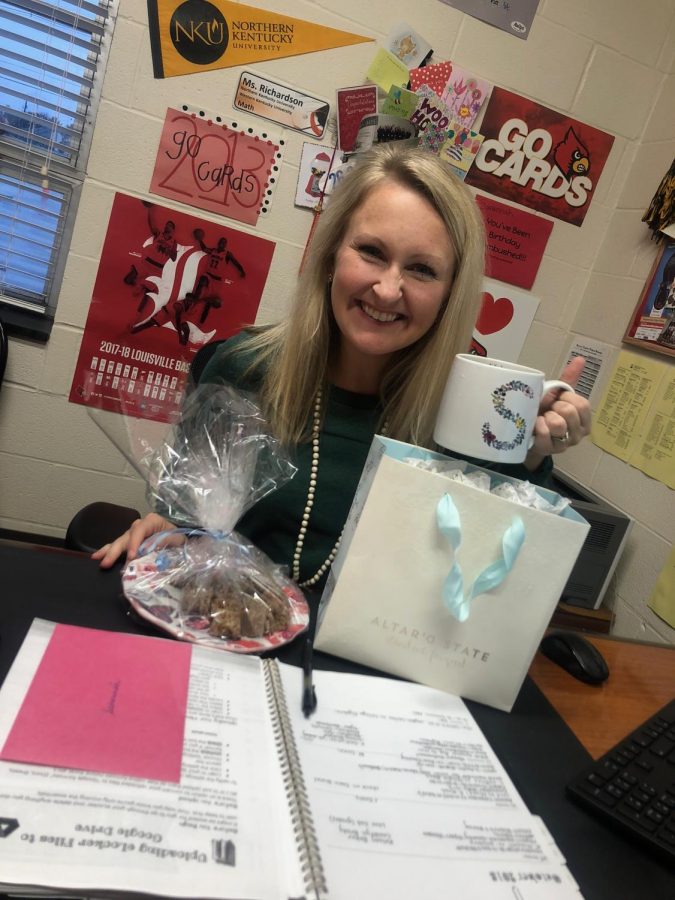 In it for the long run.
From the guidance office to the finish line of a marathon, Savannah Richardson excels at everything she does.
Whether she is counseling a student or running after her boys, Richardson always has her hands full. Although she is busy, a smile is always present on her face ready to take on whatever is thrown at her. Her future days will be filled with the fun of two more babies.
Richardson has been a counselor since September . 2014. Previously, she was a math teacher for about five years. She attended Northern Kentucky University and gained her masters rank 1 at Western Kentucky University. Her love for math and all things Pi (3.14), contributed to her desire to obtain both degrees.
Because of Richardson, new students feel extremely welcome to the school. "I came from St. Gabriel so I was new to the school. She was always there for me to talk to and really helped me out," said sophomore Mandy Brainer. Brainer first came to Bullitt East as a freshman. She follows up on new students, consistently checking in on them to ensure that they are having the best experience at Bullitt East possible.
Despite being incredibly busy, Richardson still finds time to keep up with a favorite hobby of hers: running. "Signing up for my first marathon was a big deal because I was never a runner before but I thought, I can do this," said Richardson. Over the years, Richardson has ran two full marathons, several half marathons and countless other races. Her motivation to stay fit and active through running allowed her to become very successful in one of her favorite hobbies.
Richardson has a huge impact on students. "She helped me a lot because as soon as I got here I was nervous and scared. She gave me her input on how I could have the best high school experience. I took her advice and as a result I made lots of friends and was more open to people," said Brainer. Her approachable personality makes it easy for students to pop in and ask for advice when they need it.
Many will tell you that being a mom of two young boys is definitely not easy. However, Richardson definitely makes it seem that way. She has two boys, Nolan (2) and Nathan (3). "She is so organized and disciplined and that includes as a mom. I've never seen a mom be so intentional about being a good mom. From the snow day activities planned for the boys to the pretty days outside when she makes the boys play," said Guidance Counselor Dana Steinmetz.
One thing many people admire about Richardson is her upbeat personality. "She's kind to everyone and very fun. She's always happy and positive all of the time and I know it brightens mine and everyone else's day," said Brainer. Richardson sure knows how to change someone's day, sometimes with just a simple smile.
In addition to her amazing mom habits, Richardson knows how to disconnect. "I've never known a mom to put her phone away while she's at home with the boys. Now when the boys are put to bed then she stalks Carrie Underwood on Instagram like a typical person, but you can guarantee she won't do it before the boys go to bed," said Steinmetz.
As for her future, Richardson is expecting additions to her family. In the fall, she will be a mom to twins making her a mother of four plus all of Bullitt East students.