Volleyball Season Preview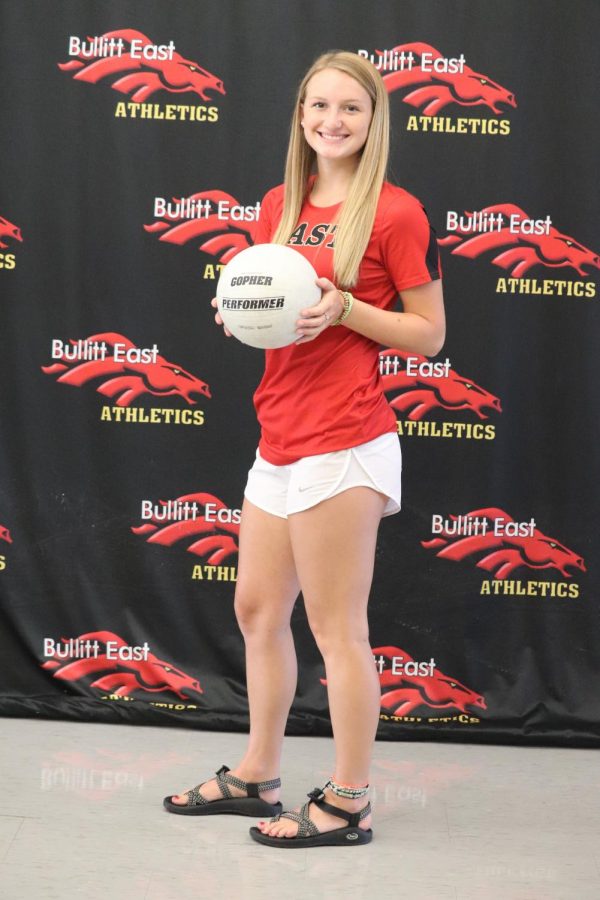 A bond is what sets the tone.
The girls on the volleyball team aren't just teammates, they're best friends too.
Being able to get along on and off the court makes all the difference. The leadership on the team is up to all the seniors as a whole. The girls are expected to have a very successful season.
When it comes to winning games, being able to work together can make or break it. The seniors on the team this year all know each other really well and work together. They have played together for years, some since middle school.
Senior Taylor Clemens said, "In all five years that I've been at Bullitt East there's always been some sort of drama, some sort of problems with the team, but this year were really close, were working really well so I think it's going to be a good year for that." Being able to step on the court and forget about things going on outside of volleyball is key.
Losing a good chunk of seniors from last year hasn't affected this team too much. Senior Julia Kromenacker said, "I really just think the main difference this year is we just lost a lot of really good seniors, I think we had seven, and we had a few key players last year. But then this year we also have a lot of seniors and we have good players coming back. But we lost Savannah Kruse and Madeline Polson so it's just different but I still think we all work very well together so that's good because we're all best friends."
Leadership on the team involves everyone. Senior Carly Morris said, "In the years past there's always been one person to lead and this year everybody's kind of a leader, everybody steps up. It's not just one person." The girls take constructive criticism well and don't get mad at eachother for it, which is important to improving.
Every player on the team has a role and knows it. Kromenacker said, "So, setter (Kromenacker's position) pretty much calls all the plays so I just have to make sure my hitters all know what's happening and the passers know where to get the ball so it's really a lot of communication on my part." Doing their job is the most important thing to this team.
Helping out the younger girls on the team is something else that's important to the seniors. Clemens said, "I would say that as a hitter, and being a hitter for as long as I have everytime I see a younger girl who maybe has something that I know I can help them with i try to tell them to the best I can what they need to do. Especially as a middle because being a middle is probably one of the hardest positions. You wouldn't think it is but it's probably one of the harder positions to play. It's hard to get the hang of so just expressing its going to be okay, I promise it's going to get easier the longer you go for it." The younger girls are the future of the program so it's important to the seniors to make sure they are the best they can be.
The team is expected to do very well this year. Kromenacker said, "I think that the year is going to be fun and I think we're going to win a lot of games. We've already had a bluegrass tournament the other weekend and we just had a scrimmage last night, but we've been doing really well. I think that we will have a good season, I hope we have big turnouts in the crowd."
Of course, not everything can be perfect. The team does have things they hope to get better at this season. Morris said, "I think we're very confident in ourselves and in our talents, so when we lose its really disappointing and we get really down on ourselves. If someone messes up or we mess up we just take it really not good. We just get really down. And I think we really need to work on that and just encourage each other and not get in little funks. Our coach calls it a funk whenever we do bad. We just need to be happy and lift eachother up because when we don't we do bad." It's hard not to get too caught up in the moment and in the game, but the team knows they need to look past the mistakes to win games.