Boys Golf Keeps On Improving Through Hard Times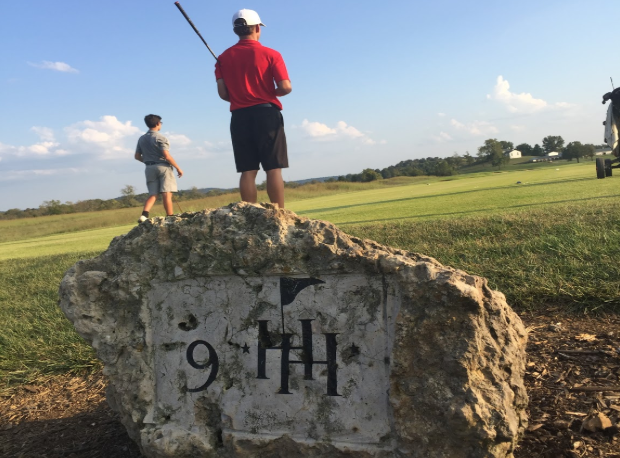 The team went from amazing, to alright, then back to where they needed to be.
The match Aug. 28 was the best of the season so far, then came the match Sept. 4 where they didn't do well, and then they had the match  Sept. 11 that they almost won.
Aiden Robison is wanting to pursue golf throughout college. The match Sept. 11 was a close one. Coach Kyle Downs, along with Robison, believes the team is improving.
Robison has been playing golf for Bullitt East since he was in fifth grade. He wants to take his golf skills and put them to use when it comes to his career. "I've been playing golf my entire life, and to be able to play for another team, for another four years would just be really exciting for me. Even though I won't be able to play for the lovely Kyle Downs, he's the best coach in the world, but it's just something I've always wanted to do since I was really young, and now that I have the chance to do it, I'm really excited about it," said Robison. He doesn't have an exact goal yet when it comes to golf after high school, but all he knows is that he wants to continue with golf. 
Downs believes that being on the team of boys golf, doesn't mean you will take golf as your career, they're just wanting to make sure your college will be paid for. "The main thing is to have these kids get college paid for, either in academics or golf. It really doesn't matter to me, what they go into. The goal is to allow them to be successful, and to set them up for whatever they need to do in their future," said Downs.
The match at Heritage Hill Golf Course took place against Grayson County Sept. 11. It was a close one, and they placed second with 186 strokes in all against Grayson County's 179. "I think we're going to use this match as a positive thing because we did come close to winning, and all of us know what we needed to do to perform better. Also, knowing that Thomas, who's one of our better players, he wasn't feeling very well, if he was playing the way he needs to, we would have won," said Robison. 
Robison lead the team with a 40 through the nine hole match, followed by junior Thomas Bryan with a 45, freshman Kyle Schuler with a 49, and then sophomore Austin Hale with a 53. They also had a match Sept. 14, where they faced "about 20 different schools," and finished with 372 strokes in all. Robison scored an 82, and following behind was Bryan with 83 strokes, Schuler with 97 strokes, and Hale with 110 strokes.
"We're not going to be perfect every single day, and we've been trying to change a lot of stuff in our match, and usually when you change something, you have to fix something else. Golf is not a match about perfect, and that is something that a lot of players need to realize, because a lot of us think we need to go out and shoot under par every time, and if we can just focus on keeping it in play, I feel like we would be a lot better," said Robison. There are certain things they need to "clean up" as a team, but other than that, the team is doing well.
"I'm pleased right now with where we're at, and there is just a bunch of little things that we have to clean up," said Downs, "Right now, we're starting to hit the ball better, we just have a bit of stuff we need to clean up, a couple swings we need to clean up. Then, we'll be good."
The next game is at the Heritage Hills Golf Course on Sept. 17, at 4:30 p.m.