SJW Movie Review #4: Almost Famous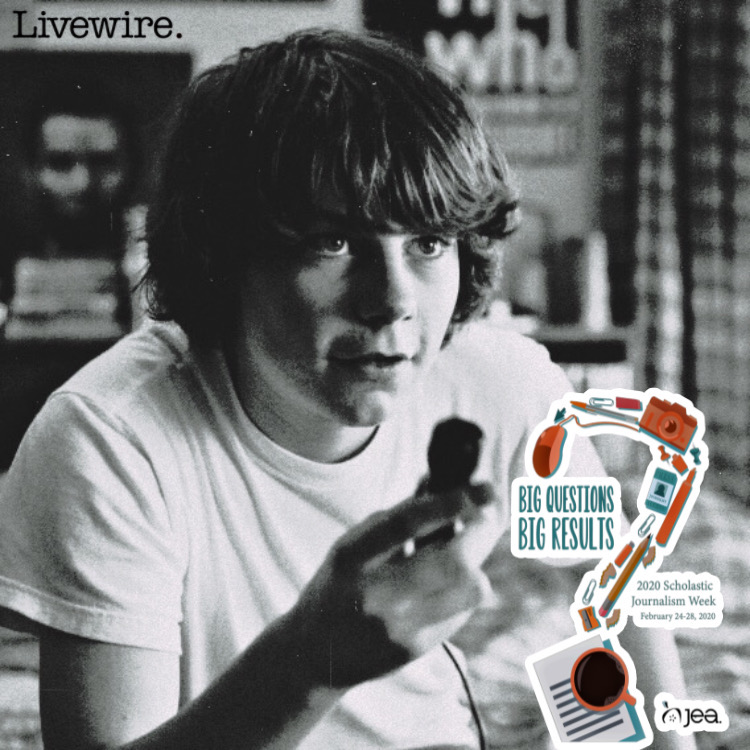 Most rock journalism is people who can't write, interviewing people who can't talk, for people who can't read, but not this time.
Almost Famous, directed by Cameron Crowe, covers the coming-of-age story of 15-year-old William Miller (played by Patrick Fuqit), a young rock and roll fanatic who also works as a journalist for Creem Magazine under the alias, "The Enemy: A Rock Writer." 
After meeting with local radio personality Lester Bangs, William gets a huge gig writing a 1000 page essay on english rock group, Black Sabbath. After being denied entry into the concert, he stumbles upon the opening band of the show, Stillwater, coming in late to the arena. William's eccentric fan energy and impressive use of vocabulary, impresses the group enough to let him into the show and interview them instead. 
After forming a relationship pretty quickly with the band, lead guitarist Russell Hammond (played by Billy Crudup) offers that William accompanies them on their Almost Famous Tour, halfway around the United States. Not to mention, the offer leads him to an even bigger gig. A chance to cover a Stillwater feature article for Rolling Stone. 
Once his overly strict and loving mother Elaine allows him to go, a rollercoaster of excitement was awaiting ahead for William. But despite all the distractions sitting in front of him, William had only three goals in mind, get his interviews, publish his article and go home. Sooner or later, the harsh realities of love, drugs, and rock 'n' roll start to take a toll on William, mentally and physically. 
It's hard enough as it is for a band to be on the road 365 days a year, but for William to be running on no hours of sleep, run across town to town for his interview, and still show up to the shows, it must take a truly dedicated individual to get the job done; and that's exactly what he did. Throughout the duration of the movie, William lives by one set of words as "The Enemy," "Be honest and unmerciful." For him, being honest and unmerciful wasn't being rude to his peers, it was him giving the most authentic and forthright piece of work possible for Rolling Stone. 
After ultimately going through several ups and downs gettin the story published, William sends it into Rolling Stone only for it to be denied by a fact check sent by Russell Hammond himself, claiming half of it was fabricated. Ultimately, Russell ends up getting in touch with William to apologize for claiming it was fabricated. Once it's all said and done, the band and William go their separate ways with both sides being heavily affected from the last few months of their high paced life. If anything is taught from this film, it's not only to be honest and unmerciful, but to finish through with your task at hand no matter what circumstances and roadblocks are thrown in front of you. Even if it means missing out or potentially hopping in on a few fun experiences along the way.