The Wrestling Season Coming to an End
Taking down the season.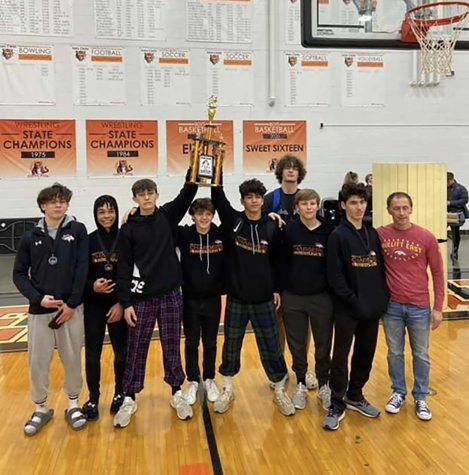 The wrestling team has ended their season after the semi-state competition with big expectations for the next. 
Throughout the season, the team has faced multiple challenges and obstacles they've had to fight their way through and overcome. Despite those challenges they faced, the team has made it a strong season, with multiple victories and achievements made by individual players including four wrestlers advancing to semi-state. Now that the season is over and looking towards next year, the team is looking like they will improve even more.
At the beginning of the season, the team started out strong with large numbers and exciting results in the first matches. "We had a really strong start to the season, we had really good numbers of kids out and had success at several tournaments," Coach Tyler Faucett said. The team is very young, with most of the wrestlers being underclassmen, 8th graders and only one senior finishing the season; but they didn't let this drag them down in tournaments and did their best with the team they had. The team's strength lies in these younger wrestlers who are already on the starting lineup, competing at a higher level will continue to improve up until their senior year.
Due to injuries and players having to sit out and miss practices from being quarantined, the team lost several wrestlers during the season. "A lot of people got hurt. And with COVID-19, and just getting sick and hurt, some people quit," said Sophmore Bryant Faucett. Even though the team had many conflicts with their wrestlers being present and able to compete, they fought through until the end of the season. 
Fighting through those obstacles and challenges they faced, the wrestling team had a rewarding season, with four wrestlers making it to semi-state, Bryant Faucett, Jack Willard, Alex Sauss and Kyle Muoy. For the girls, Emily Hendricks made girls state runner-up and Mariah Gardner won the girls state championship, becoming the first woman in the school's history to be state champion. "I couldn't be more proud of the varsity wrestlers this year with the way they competed," Junior Logan Wells said. The varsity wrestlers had an impressive performance throughout the season, even with the injuries, illnesses, and a young team, our wrestlers persisted and tried their best until the end of the season. 
Looking forward into the next season, there is a lot of anticipation. With a majority of the team returning due to how young the team is and wrestlers coming back from injuries or illnesses that may have prevented them from competing in the season, they can carry this momentum coming off this season into next season. "Next season should be a big one for us. If we can get everyone healthy and back on the mat, we should be able to compete with most of the schools around here," said Coach Tyler Faucett.