Gone Forever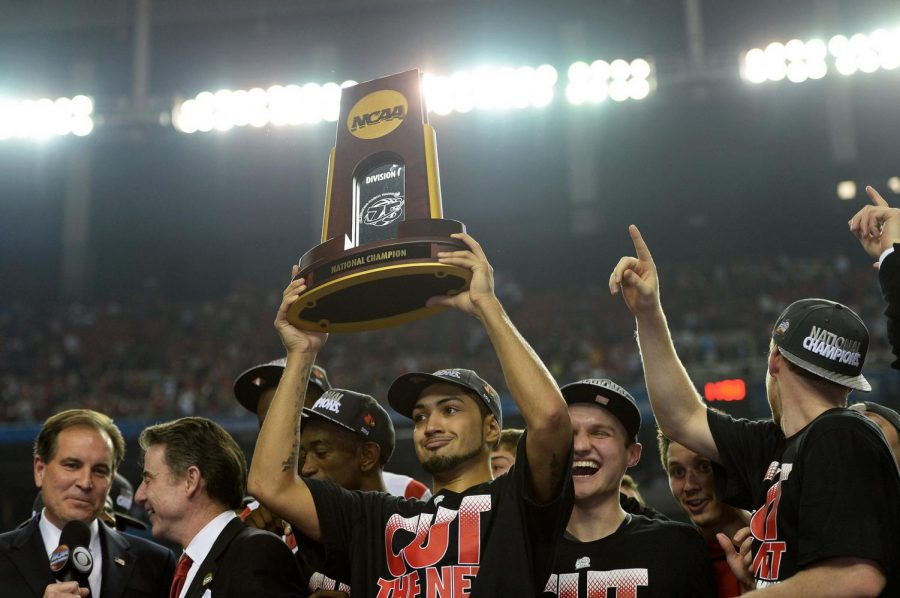 Louisville first, Champions for five years? 
The Louisville Cardinals Men's basketball team, who had won the National Championship in 2013, was forced to remove their banner by the NCAA on Tuesday, February 20.
The Louisville Cardinals won the National Championship in 2013 by defeating the Michigan Wolverines 82-76. Multiple years later, it came out that assistant Andre McGee had paid an escort by the name of Katina Powell to host stripper parties and other sexual activities to try and pull recruits to come to Louisville. Powell came out and told the news about it and caused a big blow up.
The University has been under deep fire the last few years. It started with hiring an escort to host sexual parties and then in the offseason coming up to the 2017-2018 season, Louisville paid a recruit, Brian Bowen, $100,000 to come to Louisville. He committed to the Cardinals, but the FBI investigated the situation and it was proven that Louisville did pay Bowen $100,000 to come, which is illegal. The sanctions related to the banner being taken down were due to the stripper parties. It is unknown if there will be any more sanctions applied to the sexual parties investigation, and the FBI fraud is still yet to have sanctions applied to it.
"It's not fair to the players who succeeded during that time. The man who ran these parties is the one at fault, not the players," said sophomore and Louisville fan Nathan Thomas.
A viral tweet by a former Louisville player who was on the 2013 National Championship team, Kevin Ware, stated: "Still got this fat (expletive) ring which means my guys definitely won a chip, if I'm not mistaken of course." This was tweeted minutes after the NCAA denied Louisville's appeal and made the University take the banner down.
Many fans across the country are questioning the sanctions put on Louisville compared with North Carolina. North Carolina had 20 years of academic fraud, making up classes, skipping class, etc. UNC hasn't had any sanctions put on them in those 20 years and that is what Louisville fans are up in arms about. Louisville has an incident over the span of three years and gets a banner taken, but UNC hasn't had anything done to them for academic fraud for 20 years. "They are two different topics, but UNC should be punished more than Louisville because education is more important than anything else," said sophomore Zak Perdew.
Something that many do not agree with was that acting athletic director at Louisville, Vince Tyra, announced that all stats and records made by those players who were and weren't involved in the sexual parties to have their stats and records removed immediately. "It isn't fair to those players who weren't even involved to have their stats taken from the University history books. They could've held an all-time record at Louisville and now they technically will have zero in any category," said sophomore and Kentucky fan Cameron Waddle.
The NCAA has made their minds up, the banner is gone, but the legacy for Louisville will live on forever with the fans, players, coaching staff, and people across the country. It will be erased from the history books, but the players know they won the championship on April 2.