Students and Administration Offer More than Musical Talents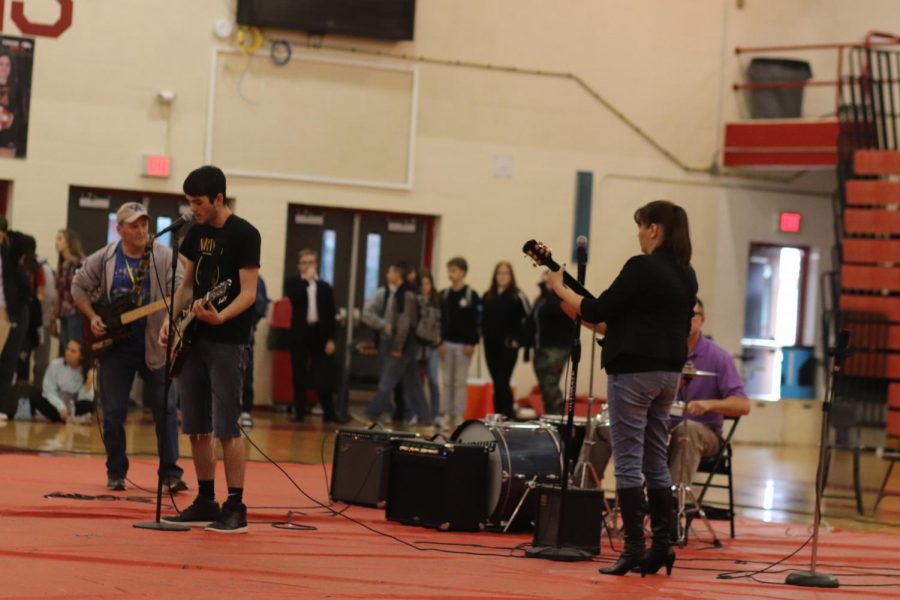 Talent show contestants transformed the gym floor into a stage.
Nov. 20, the Bullitt East gym was turned into a makeshift stage for all the talent show participants.
There is a talent show every year held in the gym. This year, student performances ranged from musically and visually artistic to athletic performances. Their talent was demonstrated to a full crowd who were very engaged in each act.
Students performing had to try out to become contestants in the show. For students wanting to watch the performance, they were required to pay one dollar to enter the gym. Annual talent shows last about an hour; this year's was no exception. Various students were given the opportunity to perform in the 55 minutes this event occupied. Annual talent shows, including this one, take place in the gym at the end of the day and are on the last day before Thanksgiving break. In the 12 acts that were performed this year, most were involved with singing, but there were also a series of karate activities, a speed painting and a dance performed.
Larry Steinmetz was the host of the talent show and started off with his annual rap that mentions all the performers in a creative way. What was special about this year's talent show was that Travis Scott's "Astroworld" concert was the night before the talent show so Steinmetz was comparing himself to the famous rapper when introducing the show and in between acts. There were 12 performances during the one hour that was allotted for the show. The gym was full, with students even sitting on the floor to watch the show.
To start off the show, freshman Trinity Smith sung "Redneck Woman" by Gretchen Wilson while strumming on her guitar. Next, Clara Carney sang Ed Sheeran's song, "Perfect," which was accompanied by her guitar-playing. After two of the singing acts, Whitney Fox sported her dance moves. Right after Fox, Chaeli Dossey sang "Drops of Jupiter" by Train. After the slow song sung by Dawsey, students had a change of pace with Gage Deacon rapping his own freestyle that he wrote himself. Freshman Callie Clements took the stage as the sixth performer by singing "Can't Help Falling in Love" with her ukelele on her side. To follow her, Mr. Edmonson, a sub teacher, showed off his karate moves. After him, another singing act took place with Brendan Dugas singing "All I Want" by Kodaline. Adding a visually artistic element to the show, Sarah Angellis did a speed painting upside-down, as she has done in years past. Before the final act, two more singing acts took place, with Jacob Hall singing "Long Black Train" by Josh Turner and Jenna Martin singing "House of the Rising Sun" by The Animals. To end the show on a good note, social studies teacher Monty Edwards brought in his family: his wife Julie Edwards, his brother-in-law Cliff Walker and his son Lane Edwards, to perform "Sweet Child of Mine" by Guns N' Roses.