White Nationalists Plan Rally in Lexington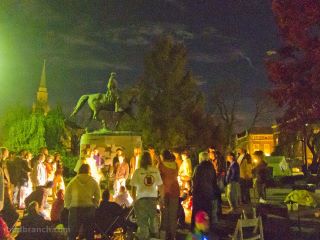 Hang on for a minute...we're trying to find some more stories you might like.
America has become the beginning of a Holocaust documentary.
After the chaos in Charlottesville, it seems white nationalists have set their sights on Lexington.
White nationalist groups are fueled by hate. Trump refuses to acknowledge that the alt-right is a harmful organization. A rally is being planned in Lexington.
If you've been on Twitter, CNN, Facebook, or any news and social media site recently, there's a high chance you've read about the chaos happening in Charlottesville, Virginia. What started out as a group of white nationalists holding a "Unite the Right" rally with counter-protesters showing up, turned into violent, hate-fueled mayhem.
Groups like white nationalists are a bunch of hateful racists who are only filled with hate for non-white people. They believe that white people are genetically superior and that, somehow, white people are the only ones who deserve to be in America, even though Native Americans were the first on the continent.
The saying "history repeats itself" has never been so relevant than it is now. With Trump refusing to denounce the alt-right and even going as far as to blame the alt-left for this violent protest, it seems that America and its citizens are living in a Holocaust documentary that is set right before the fateful events transpired.
Unfortunately for Kentucky, it seems that the white nationalist group has set their sights on Lexington as their next rally location. According to the Lexington Herald Leader, the leader of the Traditionalist Worker Party, Matthew Heimbach, plans to recruit more members for his party. There is no set date for the rally, though.
The fact that this white nationalist rally is even an idea for Kentucky is simply mind-blowing. If the plans of a rally continue, more violence will ensue leading to more deaths and more injuries. This rally could only bring more harm and an even bigger divide between everyone.