Patience Is a Virtue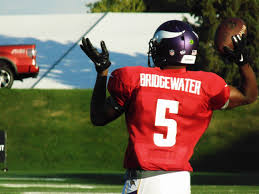 Down, but never out.
Teddy Bridgewater was reinstated to the Minnesota Vikings 53 man roster on Wednesday, Nov. 7 after sitting out for over a year.
Bridgewater was preparing for his 2016 campaign, but that all came to a quick stop. Bridgewater, at practice in August, went to drop back for a pass and absolutely destroyed his knee on a non-contact drill. It was later diagnosed that he suffered a dislocated knee and a torn ACL in the process.
The Minnesota Vikings' assumed franchise quarterback's career could have easily ended with the blink of an eye. Team doctors were on site at the practice all day, and if they didn't act quickly to the injury suffered by the star quarterback, Bridgewater could have been forced to have his leg removed. Bridgewater missed the entire 2016 Vikings season.
Teddy Bridgewater attended the University of Louisville. He was a starter for the UofL football team for three years. He led the Cardinals to three winning seasons and two bowl victories. Some would say the biggest bowl game win in school history was in 2012 when Bridgewater led the Cardinals to a 33-23 victory in the Allstate Sugar Bowl over the #3 Florida Gators.
The injury devastated many people across the nation, but it really hit hard for Louisville fans. "I was like a sad/mad because I really wanted to see him play because he had been doing really good," said freshman Will Blanford.
The former Cardinals quarterback rehabbed hard and made a return to preseason camp for the Vikings in 2017. Yet, Bridgewater was not yet 100 percent as he was placed on the PUP list (physically unable to perform list). He was eligible to start practicing after the Vikings' week six contest, but had to have 20 practices under his belt in order to be eligible to be reinstated onto the roster.
Bridgewater was reinstated on the Vikings 53 man roster on Wednesday, Nov. 7. He will dress, but there is no guarantee that he will play. Case Keenum, the quarterback that has been starting in Bridgewater's place, was told from head coach Mike Zimmer that he will continue to start, as he has been doing well in Bridgewater's absence.  
"It's exciting to see him reinstated to the roster because he'll eventually get his chance to start again and he's going to do solid," said Blanford. Bridgewater will be on the sidelines until coach Zimmer makes the decision to give him his shot to make a true comeback.
The Vikings are in playoff contention, as they are leading their division, the NFC North, by one game currently. Bridgewater will look to contribute to the playoff push and hopes to reach Super Bowl 52. It would be a home game for the Vikings if they were to make the grand-daddy of them all, as the Super Bowl is at US Bank Stadium in Minnesota.