Walker Accepts New Position at North Bullitt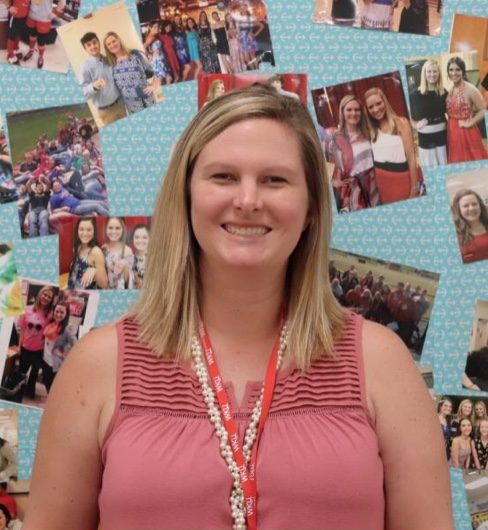 She's leaving behind a legacy.
April Walker, previous social studies teacher, has recently received the job she has always wanted and is moving on to pursue her dreams as a counselor.
Walker taught at Bullitt East for eight years. Her last day teaching was Friday and she started her job as a guidance counselor at North Bullitt High School this week. Leaving the community was not an easy task for her or her students.
It may not be easy saying goodbye to someone you have gotten close to, but that is what the students in Walker's class had to do. When the news was laid on the table you could hear a pin drop. Students who usually are always talking went silent listening to every word she had to say. "When she was telling us she was leaving I was shocked and very happy for her because she got the job she wanted. I didn't want her to leave but this is her opportunity of a lifetime. She knew what she wanted, and she got it, so congratulations to her," said sophomore Katelin Pierce.
Walker did not only teach her students history, she also took the time to teach them about life. Just by walking in her door you could tell she cared about her students. She had two big boards full of pictures her past students had taken with her. As a teacher, she had a teaching method that helped all of her students and left nobody behind. If someone was having trouble she took the time to help them out. "Mrs. Walker was an incredible teacher, her teaching method made everything so easy to understand," said sophomore Austin Villarreal.
She impacted not only her classes but the school as a whole. From houses to graduation, she had a helping hand with it all. Her accomplishments will not be forgotten by the staff. "I can't even begin to list all of the ways Mrs. Walker has made an impact at Bullitt East. Not only is she a great teacher, but she unselfishly gives of her free time to our students and staff. She is the junior class sponsor, has been in charge of houses, planned the awards day, helped with graduation, and so much more. She truly cares about all of her students and takes a personal interest in their lives. She will be missed tremendously," said Guidance Counselor Crystal Barr.
Not only was it hard for her students to hear that she was leaving, but it was also a tedious task for Walker to tell them. When you walked in as a student in her class you would think that it was any other day until the air changed and you could tell something was about to be said. Emotions were everywhere and unclear with some. "When I told my students that I was leaving East to pursue my dream of being a school counselor I was overwhelmed with emotions. I have poured my heart and soul into the culture and climate at Bullitt East for the last eight years and to just let go of that is nothing short of easy. However, I have faith that my students will go on and push themselves to succeed. I hope I have shown them that getting involved in their high school career has the ability to make or break their experience," said Walker.
Even when she was close to leaving, Walker still continued to want to teach her students. "If I had to pick one thing I wanted to make sure my students knew it would be that you can do anything you set your mind to. Don't waste your time worrying about what people think. You do what you think is going to help you succeed and be a good person, take the opinions of those who matter, and don't waste your time on stupid drama. You can, and will do, whatever your heart and mind are focused on. Thank you for being such a huge part of who I am as a teacher and as a person," said Walker.