Punting Safety to the Forefront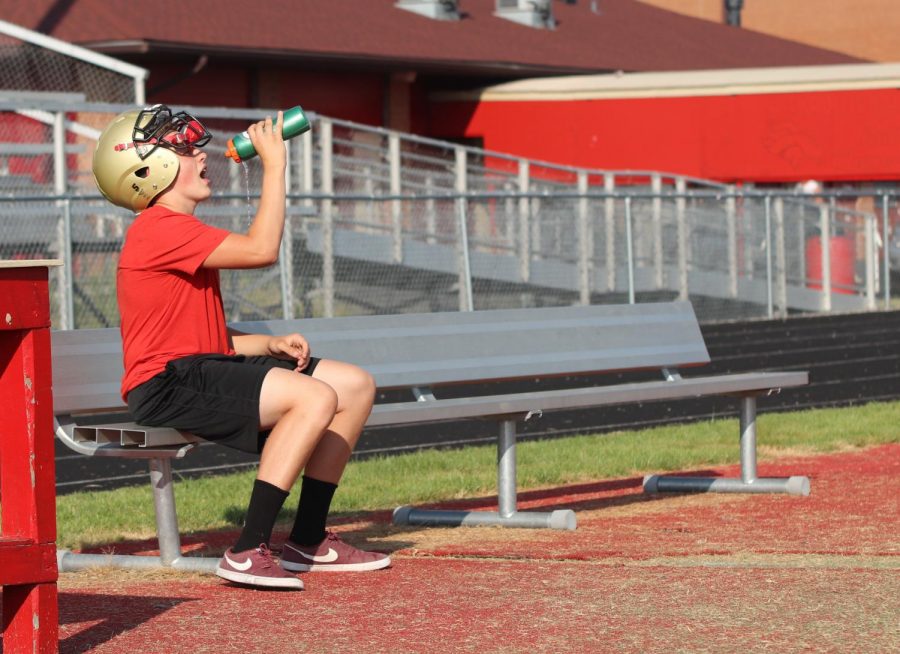 A gallon a day keeps dehydration away. 
Safety in sports has been put in the forefront as fall sports have just begun. 
In the past, injuries have plagued teams everywhere and has been a large issue. Recent incidents have caused an increase in awareness for sports safety. The school is working on finding new ways to keep student athletes safe and protected from harsh injuries. 
Injuries and safety issues have always played a factor in an athlete's life and performance. Whether it be major or minor, they can make or break a team's season and rankings. According to a poll conducted on the Livewire Instagram account, about 75 percent of student athletes have been injured playing a sport. Common types of injuries consist of concussions, torn ACL and a sprained ankle.
Injuries have already taken their toll on the football team as the season is just beginning. "We've been banged up in spots. There's a developing continuity amongst groups such as the offensive lines that has been hard to come by," said Ethan Atchley, the head football coach. 
In football, one of the most common injuries and safety issues as of lately have been concussions. Concussions have always been apart of the sport and as technology has advanced with helmets and other forms of padding, they have become less common. They can range from minor to very severe and may be fatal to life. Scientists and engineers make new advances everyday and athletic programs are doing everything they can to prevent concussions. 
Sophomore Ethan Taipalus has experience with concussions. Three years ago, he suffered a heavy blow to the head during a game and was out for three weeks. "Having a concussion was very scary and very annoying because it was non-stop ringing and I couldn't even watch TV," said Taipalus.
Another common injury, and safety, issue is dehydration. On Aug. 8, two football players were dehydrated on the field during practice and passed out. With the temperature being so high, players were very easily dehydrated and were forced to drink lots of water to stay alert and healthy. The players injuries were not major but could have been fatal had they not been treated correctly.
The team and staff acted swiftly and followed the correct procedure and got the athletes taken care of. "The exact way by the book, we gave those kids medical attention, we sought medical attention, and the individuals were back and under the doctors care and released back to practice when the doctor and trainer said they would," said Atchley. 
The football program is working to find new ways to help prevent and stop dehydration on the field. "Players are given electrolytes and we are looking into a product called "sword" which is another form of Gatorade per say that has some of the additives. And then players are carrying around a gallon jug of water to try and stay hydrated throughout the day and being educated on proper nutrition, sleep habits and trying to make sure that they understand that the hydration part is as much to do with what they're doing, putting in their bodies outside of practice as it is what they do in practice," said Atchley. 
Other sports have also been working on new ways to help prevent injuries and create a safer environment. Teams have been doing more stretching, more conditioning and improving their equipment in the offseason. Coaches and players have been educating themselves on ways to keep them hydrated and overall safer while playing sports. This makes athletes more prepared to compete and less injury prone throughout their season. 
"We always make sure we stretch and stay hydrated before our games so we don't cramp up or tear something," said sophomore soccer player Tyler Mahoney. The soccer team is another one of the fall sports who values player safety over everything.