East wins 48-21 on Central's Field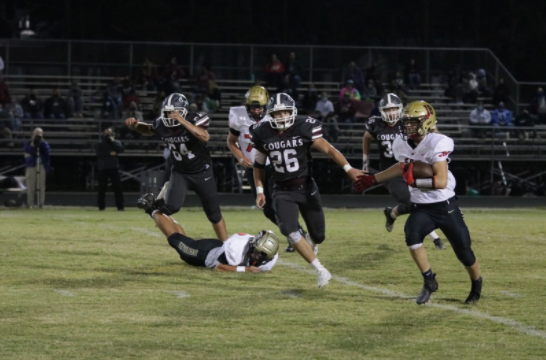 Devastating loss to an incredible win.
The football team made a comeback after they lost their first game of the season.
On Sept. 11, the football team lost their first game of the season against CAL. After that game, the team worked hard to prepare for the next week. The team saw great improvement and won the next game against Bullitt Central.
After the first loss against CAL, players and coaches were left disappointed by the game. "We knew CAL was going to be really tough and that our team is young but we expected to compete better than we did.  We were disappointed that we didn't play better," said Assistant Coach Tyler Faucett. Faucett also believed the loss was a learning experience for the team because many of the players were playing varsity for the first time that night. 
Senior Caleb Riggs played that night and confessed to making some errors. "I was devastated, but not at the team or about the loss," said Riggs, "I just knew there were many mistakes I made and felt I could've done much better." Senior Bryce Clements agreed with Riggs, saying that there were many things that needed to be improved throughout practice.
When the disappointment subsided, the team started preparing for the next game against Bullitt Central. "Going into that next week, we really urged the guys to push themselves a little bit harder," said Strength and Conditioning Coach, Tolliver Hefner.
Hefner believes that the loss against Christain Academy was tough and he made up for that in the preparation and practice for the game against Bullitt Central. "It affected practice a lot. Going into a season 0-1 isn't the way we want to start things so the intensity picked up in practice," said Clements.
In addition to practice, Riggs also went back to look at his mistakes and practice harder to fix them. He wanted to be better for the team and for himself. By Sept. 18, the team was prepared and they began the game against Bullitt Central. "I was pretty confident going into the Central game," said Riggs, "I had prepared myself all week for it." 
The football team doesn't see Bullitt Central as the biggest opponent, but they still had to do their best. Once Bullitt East got their third touchdown, Central fell behind and was down for the rest of the game. 
After seven touchdowns, Bullitt East won 48-21 against Bullitt Central and got their first win of the season. 
According to Clements, the team still has room for improvement after the win. "We still had a few mistakes that we could get better on, but we knew what had to be done in order to secure the win," said Clements. 
Riggs also believes that the team could improve, but he was just going to keep showing up to practice and giving his maximum effort in order to close the gap for improvement. 
Coach Faucett gave examples of things that needed to be worked on before the next game. "We need to be consistent," said Faucett, "So far we have seen a lot of up and down with our execution on offense. We have to eliminate mental mistakes and be more consistent."
The next game is Homecoming on Sept. 25, at 7:30 p.m, at Bullitt East High School, against North Hardin. The Homecoming Ceremony starts at 5:00 p.m.