Fashionably Late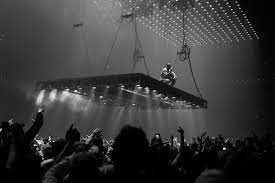 Will the wait be worth it?
People are waiting eagerly for Kanye West to drop what may be one of his last albums, DONDA. West has a consistent trend with being late when it comes to dropping albums. Some people have varying opinions on the topic. Some think that he shouldn't rush it to make sure that this album is perfect, but on the opposing side of things, some people are getting eager and angry that he is late to release the album.
Many people were angry that they purchased tickets to the release events but did not release the album afterwards. Some people that went were just happy that they got to see Kanye, others are upset that it is so late. Long time West fans were not surprised that the album would be arriving late.  He has done this on many albums such as The College Dropout, The Life Of Pablo, My Beautiful Dark Twisted Fantasy and others. 
Kanye West is a household name that many people have been listening to for a really long time. 
"If I was there I would just be happy to see him," senior Keelin Davis said.
Davis is a long time Kanye fan opposed to the common person who is really upset on the other side some people are just happy to see him. With him being a fan since he was eight years old, it is understandable to be happy about seeing him at one of his last albums ever. 
"I would not have been happy with him but also not mad because he did put on a good performance," Katie Hicks said. 
There are definitely many sides to the event, some would have differing opinions but this is one of many of West's extravagant events. During The Life Of Pablo rollout, he also hosted a event in Madison Square Garden. He released the album unfinished and made tweaks post-release to those songs to complete the album. He is no stranger to having events with partially finished albums.
"I've lost sleep over the album," Davis said. 
The long awaited album has definitely taken a toll on people eager with anticipation for the album. "It will be worth the wait like the others were."
People seem to have come to terms with the way that Kanye handles his albums and the obscure way of getting them out.