Album Ranking: Nicki Minaj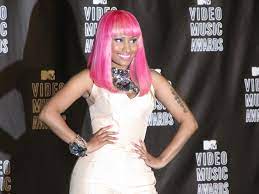 My name is Onika, you can call me Nicki.
Onika Tanya Maraj-Petty, professionally known as Nicki Minaj, is a rapper, singer, and songwriter. She was born in Trinidad and Tobago on Dec. 8th, 1982 and moved to Queens, New York with her family at the age of five. She took an interest in music from a young age, writing her first rap at the age of 12, but chose to pursue acting more heavily. She attended LaGuardia High School of Music & Art and Performing Arts and took drama classes. She didn't have any success as an actress and instead had multiple normal jobs growing up. She released her first mixtape 'Playtime is Over' on Jul. 5, 2007, her second mixtape 'Sucka Free' on Apr. 12, 2008, and her third mixtape 'Beam Me Up Scotty' on Apr. 18, 2009. All three of these mixtapes include features from Lil Wayne, a highly successful rapper who Minaj had caught the attention of. Wayne founded the record label Young Money Entertainment and signed Minaj to the label in 2009. She has released five albums under the label including 'Pink Friday' (2010), 'Pink Friday: Roman Reloaded' (2012), 'Pink Friday: Roman Reloaded The Re-Up' (2012), 'The Pinkprint' (2014), and 'Queen' (2018). She also re-released her 2009 mixtape 'Beam Me Up Scotty' in 2021 and added three new tracks. 
I will be ranking Minaj's top three albums:
The Pinkprint – 'The Pinkprint' is Minaj's best album because it is where we get her at her most vulnerable. I believe we see the most growth from her as an artist and a person on her sophomore album. We get extremely intimate tracks like 'All Things Go', 'The Crying Game', 'I lied', and 'Bed of Lies'. We also get one song on the album that is completely different from anything Minaj has in her discography. 'Grand Piano' is a 4 minute and 20 second long track of Minaj singing and showing off her vocal range. There is not one point in the song where she raps. She has never been this open with her fans in any other body of work and on all of these tracks she reveals her deep thoughts about her feelings over the love and loss in her life. But in addition to these songs, Minaj added many classic raps that she is known for today and in my opinion display some of the best beat selection from her. Tracks like 'Only' and 'Truffle Butter', both with features from Lil Wayne and Drake, were big hits and helped skyrocket the fame of 'The Big Three'. There is one song on this album that stands alone. It is arguably the biggest song of her career and helped make her the artist she has become. 'Anaconda' was a worldwide hit, reaching 1 billion views on YouTube. 

Pink Friday; Roman Reloaded – 'Pink Friday: Roman Reloaded' is Minaj's second best album. I think it is her most iconic album. This was the first glimpse the world got of a crazier side of her personality. This era of her career was where she showed out with her most camp and iconic looks. It is also referred to as The Roman Era of her career because it is where we hear the most of her alternate personality Roman. He can be heard on part of many tracks on this album, but most noticeably on tracks like 'Roman Holiday' and 'Roman Reloaded'. 'Beez In The Trap', 'Pound The Alarm', and 'Va Va Vroom' have all reached over 100 million views on YouTube and 'Right By My Side' has reached 505 million views. 'Starships', which is one of the most well known songs by Minaj, is also on this album reaching 454 million views on YouTube. 

Queen – 'Queen' is Minaj's latest album and her third best. One of my favorite things about this album is the title. She is the queen of rap and is claiming that here. She has proved all she needs to prove and has opened many doors for other female artists coming after her. This album gained much less attention than her others, but when you listen to it, she still displays just as much skill. She still had hit songs on this album, including 'Chun-Li', 'Hard White', and 'Barbie Dreams', but they gained less attention than her previous hits. My favorite tracks on the album, 'LLC', 'Chun-Swae', and 'Ganja Burn', don't get as many views as they deserve in my opinion. 'Ganja Burn' is more of a slow intimate song for Minaj, which I loved seeing on this album, and I think 'LLC' is one her best songs lyrically and shows how she still has the ability to write raps with clever wordplay. This album has nowhere near as many hits as her previous ones, but I think many songs on it are still quality songs. It was a little bit of a different sound for her. I felt like we got a lot of good raps, but we got less of Roman's voice, which is something a lot of her fans love. I also think the wordplay and beat selection overall on this album falls short of 'The Pinkprint'. There were more songs on this album than any of her others that I just didn't really like. The beat on songs like 'Majesty', 'Thought I Knew You', and 'Run and Hide' didn't sound the best to me and I didn't really like the style. Other than the songs I mentioned, I liked the others fairly well, but not as much as the songs on her previous albums.