Taking Stage for Third Time Around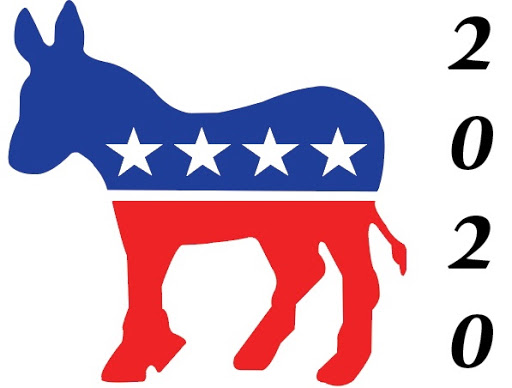 A night filled of defending, fact-checking and arguing.
The third democratic debate was held last night in which candidates defended their policies and also took jabs at one another.
The leading 10 democratic candidates took the stage last night in Houston, Texas for the third democratic debate. Last night marked the first time where the three frontrunners – Former Vice President Joe Biden, Senator Bernie Sanders and Senator Elizabeth Warren – debated on the same stage. Throughout the debate they focused on issues ranging from healthcare to immigration.
Out of the 20 Democrats running for the 2020 election only half of them qualified for the debate. Those who qualified are Biden, Sanders, Warren, Julián Castro, Kamala Harris, Corey Booker, Pete Buttigieg, Amy Klobuchar, Beto O'Rourke and Andrew Yang. Each candidate had one minute and 15 seconds to give a response to a question and 45 seconds to respond to a fellow candidate. During his introduction, Biden stated, "This is the United States of America, there's never been a single solitary time where we have set our mind to something where we've not been able to do it."
Biden, Sanders and Warren all stood in the middle of the stage and had already begun taking direct shots at each other during the first debate topic: healthcare.  The first question of the night went straight to Biden and was centered around Sanders and Warrens plan for medicare for all and in his answer, Biden claimed he is in favor of Obamacare and thinks it just needs improving while Warren and Sanders think the government should scratch Obamacare entirely and start fresh. Biden and Sanders argued over who had the most cost efficient healthcare plan where Sanders claimed that Medicare for all will cost the U.S. government 50 trillion dollars over the course of ten years after Biden saying it would cost the U.S. government 30 trillion dollars per year.
Before pivoting to her own plan for healthcare, Warren praised Former President Barack Obama for reinventing the way healthcare is now viewed in America. "We all owe a huge debt to President Obama, who fundamentally transformed health care in America," said Warren. "Those at the very top…are going to pay more. And middle-class families are going to pay less."
Highlighted topics from the debate include healthcare, racism, drug-related incrimination, gun control, immigration, tariffs and the current trade war, terrorism, public schooling, universal college and pre-k and inequality in schools and race. Compared to the other two debates this one stood out as being the one with the most extensive discussion on the topic of race as the others seemed very uneven on the attention to race and discrimination. Gun control had seemed to affect O'Rourke in a different way compared to other candidates after the shooting in his hometown of El Paso, he stood firm in his beliefs of banning assault weapons and even began to explain the common ground between gun owners and those wanting gun restriction. Whenever immigration was brought up, Biden was asked to defend Obama's record on immigration, in which he could not defend, this struck a nerve with other candidates who believed that Biden only wanted to take credit for Obama's work whenever it was highly praised by the majority of people.
"In Odessa, I met the mother of a 15-year-old girl who was shot by an AR-15 and that mother watched her bleed to death over the course of an hour because so many other people were shot by that AR-15 in Odessa, in Midland that there weren't enough ambulances to get to them in time. Hell yes, we are going to take your AR-15s and AK-47s. Were not going to allow it to be used like this on fellow Americans anymore," said O'Rourke, "I'm listening to the people of this country. The day after I proposed doing that, I went to a gun show in Conway, Arkansas to meet with those who are selling the AR-15s and AK-47s and those who are buying those weapons. ANd you might but surprised, there was some common ground there. Folks who said 'I would willingly give that up, cut it to pieces, I don't need this weapon to hunt, to defend myself' It is a weapon of war so let's do the right thing.
To close the night, each candidate was asked a question on the quality of resilience, Biden was the first to get to answer this question and as soon as he began to answer protesters started chanting and yelling, causing him to seem distressed. Once the protesters had been cleared they restarted the clock for him and proceeded on with the closing.