The "Mamba Mentality" Lives On After Death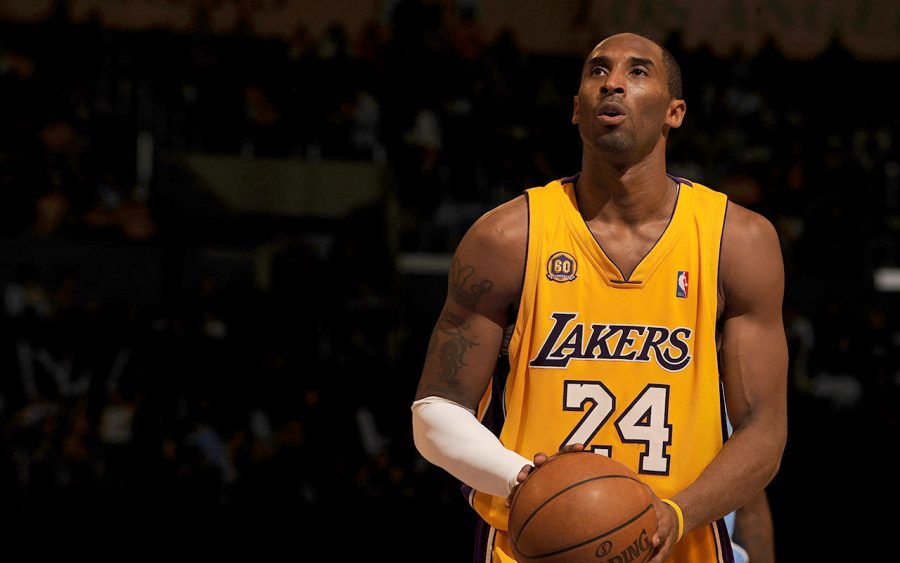 Sunday, Jan. 26, the world lost the basketball legend Kobe Bryant along with his daughter, Gianna, and seven others. 
On their way to a tournament at Bryant's basketball facility, Mamba Sports Academy, the helicopter carrying the nine passengers, crashed into a mountain in Calabasas, Calif. at 9:45 a.m. 
Since Bryant's retirement, he had become heavily family-oriented and his family meant the world to him. At just 41 years old, Bryant had impacted millions of people in his lifetime. Many students were hurt by the loss of Bryant as they had grown up watching and idolizing him. 
With the birth of Bryant's fourth daughter, Capri Kobe Bryant in June 2019, he was just getting started as a parent. His eldest daughter, Natalia Bryant is 17 years old and is a volleyball player at her local highschool. Gianna Bryant was 13 years old at the time of the crash. She played for her father's basketball team, the Mamba's, and passed away alongside two of her teammates and their parents. Bianka Bryant is three years old and was the third child in the family.
In a story shared on an ESPN live broadcast, host Elle Duncan shares a story of an interaction she had with Bryant. At the time, she was pregnant with her soon-to-be daughter and Bryant was filled with joy to hear about her story and speak with her about her daughter. He talked about the love he has for his daughters and he mentioned that he was a "girl dad." He was proud of all four of his daughters and was excited to watch them grow and learn. She recalled the words of Bryant in the broadcast as, "That middle one (Gianna Bryant) is a monster, she's a beast. She is better than I was at her age. She's got it." She also said, "He died doing what he loved the most, being a dad. Being a girl dad." The hashtag "girl dad" trended on Twitter the day of the broadcast and caused thousands of fathers posting pictures with their daughters accompanied by heartfelt messages to their loved ones and the Bryant family.
Bryant also left behind his wife of 19 years, Vanessa Bryant. Once the news broke about his passing, concerned fans immediately flooded the comment sections and social medias of Vanessa Bryant in hopes to give her some sense of comfort or looking for answers. For three days, she had gone private on all of her social media accounts and there was no statement made until Wednesday, Jan. 29. In her post, she said, "I'm not sure what our lives hold beyond today, and it's impossible to imagine life without them. But we wake up each day trying to keep pushing because Kobe, and our baby girl, Gigi, are shining on us to light the way." Many celebrities and fans have sent their condolences and best wishes to the family through this post.
In his 20 seasons in the National Basketball Association (NBA) and on the Los Angeles Lakers, Bryant had impacted his teammates, opponents, coaches, fans and the game of basketball as a whole. He brought five championships to the Lakers organization and served as an idol to the new age of basketball players and the people who watched him as they were growing up. His "outwork everyone else in the gym" dedication, known as the "Mamba Mentality," inspired thousands to want to work as hard as him in no matter what they do. Whether it was sports, in school or in an office building, Bryant had motivated people to work harder to be the best they could be.
The NBA had eight games scheduled on the day of his unexpected passing. In the games, many players and coaches were overcome with emotion and paid tribute to the fallen by taking 24 second violations and eight second violations which were Bryant's numbers that he wore in his career. A majority of the young players in the league grew up watching Bryant play almost every night and for some, he was the reason they play basketball. Players such as Trae Young, Devin Booker, Kyrie Irving and more were visibly affected by the tragedy that had occurred.
Many students from the time they were children until now, have looked up to Bryant and have been inspired by him in many ways. "My first jersey I ever got was Kobe's. He used to be my favorite player and I used to sneak downstairs at night to watch him play," said freshman Jordan Skaggs. Bryant's "Mamba Mentality" was a big part of Skaggs' childhood and it always kept him motivated. "I love how hard he always worked. Being a little kid and seeing him score so much, so easily, I wanted to be like him," said Skaggs. This tragedy was stunning for people everywhere and was unexpected. "It all came out of nowhere. I thought it was fake, none of it really made sense and I didn't want to believe it," said Skaggs. 
Another student who was impacted by the tragedy was sophomore Eli Cox. "It seemed like the world stopped when it happened. It was such a weird day," said Cox. He felt like Bryant was like the Michael Jordan to his generation. "Ever since I was little, I've watched him and LeBron be the best for years and I feel like I lost someone I knew," said Cox, "His last game was what I remember the most probably, it was so crazy." The impact of Bryant touched many kids growing up and he inspired people to be better in their everyday lives. 
In his lifetime, Bryant has been able to change the sport of basketball forever. He had found a way to touch millions of people without ever meeting with them. His legacy will be remembered forever and the "Mamba Mentality" will live on.