Dancing Into Competition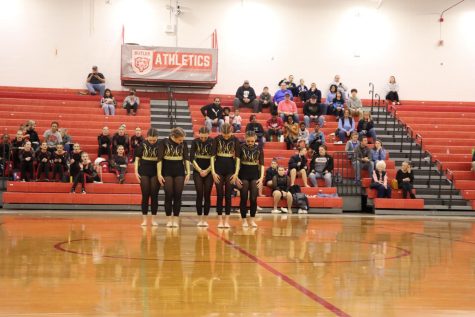 Spinning into a victory. 
The dance team competed in the Eastern Expo at Eastern High School on Saturday, Feb 19. They won second place in the jazz division. Overall, the team performed really well.  "I think the season is going to be great. The choreography is really good and I'm really excited to go with the season with these girls," Junior Katelyn Powers said.  
Later, the team experienced an even greater victory. On Saturday, Feb 26, the dance team competed at Butler High School in the KDCO competition. They won first place in the junior varsity jazz division, and one second place in the junior varsity hip-hop division. 
Sophomore Samantha Gourd has high hopes for the rest of this season compared to last year. "We have performed so much better this season than we have any other year, at least since I have been on the team," Gourd said. Her favorite part of this season so far is performing for other people. "I like being able to show people that this sport has a history, and that this sport is what we are," she said. 
The team's focus on dance has increased since the start of this season. "I have a lot to do in a day, so whenever I'm at dance, my mind is really set on dance. My mind is at dance, and I don't think about anything else. It is sort of my stress reliever," Gourd said. 
The team will be competing at the XDX Extreme Dance Super Grand Championships on Saturday, March 12, at the Northern Kentucky Convention Center. This will be their last competition of the season.