Taking the Next Step in Education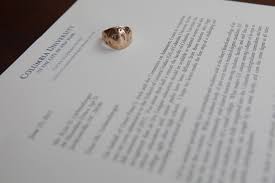 I got in!
This is what many seniors are saying this time of year when they get a letter in the mail saying they've gotten into college.
Getting accepted to college can be one of the best experiences of a lifetime. The choice of where to go and why they want to go there are two of the biggest questions that have to be answered. On the other hand, this is very exciting for a person and can shape their future.  
Senior, Robert Reiter was accepted to Morehead State and the University of Louisville and is leaning towards the University of Louisville. At Louisville, Reiter plans to study social psychology. He plans to work at UPS to help pay for college through their Earn & Learn program. This program provides up to $25,000 in tuition assistance and can work with a student's hectic schedule.   
Reiter applied to every college he could that didn't cost money and said the processes were fairly easy. He sent his ACT scores and current transcript to every one of them.
Senior, Kasey Markwell plans to go to Western Kentucky University after she visited the campus and fell in love. "I loved the campus and the atmosphere there," said Markwell. Her decision not only came from her fascination with the campus, the fact that her grandfather went there influenced her to attend the university.
Markwell is still undecided on what she wants to major in but has narrowed it down to math and/or business management. After college, she plans to get a job where she will be able to work her way up into management.
Patience Robinson plans to attend Thomas More University. After visiting the campus she decided that it was the place for her. "I applied to Thomas More because I really enjoy the city of Cincinnati, and the school is only ten minutes away from downtown," said Robinson, another factor that influenced her to attend is their marine biology program.
Robinson is excited to begin her life as a college student. She plans to enter into a marine biology program. "They have an amazing marine biology program that partners with the Newport Aquarium to offer students the best education they can get without moving to a coastal state," said Robinson. After college, she plans to pursue a career at the Newport Aquarium to work with animals.
Amber Higdon is going to Bellarmine University. She says she chose Bellarmine because "they were one of the few of my choices that offered a physical therapy program. Applying was easy and free. It really took no time at all once I got my transcript sent over. I plan to major in biology and then after my four years join their two-year physical therapy program," said Higdon.
Higdon wants to become a physical therapist one day, "After college, I plan to be a physical therapy assistant until I can finish the program and get my full license." After Higdon obtains her full license, she plans to become a full-time physical therapist.
Hundreds of Bullitt East seniors have already been accepted to college and plan to start in the fall.