Class of 2023 Inching Closer to Their Senior Year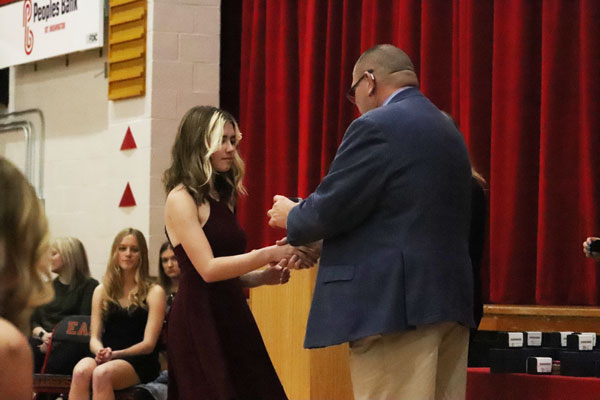 A night to remember. 
The class of 2023 had their Junior Ring Ceremony Tuesday, March 22.
The Junior Ring Ceremony symbolizes the junior class moving up into their senior year and becoming the leaders of the school so it is very important for some students to be a part of. Even though some juniors did not get their own ring turned, they were still involved in this big moment. The juniors are looking forward to transitioning into their senior year and what happens next in their high school career. 
The is a big event for most juniors. It's an opportunity to get something that connects you to your school when you only have one year left and be able to look forwards to the future. "It's a lot of fun getting to the end of the year where we actually get to do the normal upperclassman things like the ring ceremony and prom," junior Kiara Warren said. This was the first year in a while that the current upperclassmen were able to be part of something normal in their high school career. 
Other juniors were able to be part of this day, even if they weren't getting their ring turned. "I know how important the turning of the ring is and being able to do that is a huge honor," junior Lyndsey Price said. Although Price did not get a ring turned herself, she was able to turn her friend, Ellen Bray's, ring. "It was a really meaningful moment for me because I had someone that I cared about presenting my ring and I also had fun while I was there," junior Ellen Bray said. 
Junior Lilly Reid was also a junior who not only got their ring turned but was one of the presenters of the junior speech. "I was definitely thankful that I got chosen to do it. This is a big time in our lives and to be able to talk to my class and encourage them, I will cherish that forever," Reid said. Other juniors are also cherishing the moment to be there together but they are also looking forward to their last year of high school.
Many juniors were looking forward to this day and getting their ring turned and looking forward to what happens next. "I'm looking forward to getting closer to being able to pursue what I truly want to and being able to get a future in what I'm passionate about," Warren said. The juniors are ready for their last year of high school and want to see what happens next.