Cross-Country Freshman Show Promise for the Future of the Team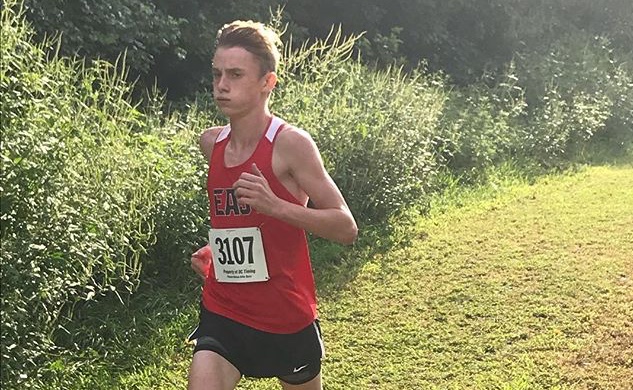 Many of the younger runners on the team are taking the lead as they end with quick times.
Over the past two weeks, the cross-country team has traveled from Elizabethtown to Goshen to compete in their 5k runs.
On Sept. 1, the team drove to Elizabethtown, Kentucky to compete in the Central Kentucky Run for the Gold event. This was the first nighttime run of the season. Not all members competed in this meet, but the ones that did displayed a good effort.
The top boy on the team to place in the Run for the Gold competition was freshman Dalton Lesher. He completed his 5k with a time of 16:54.26, giving him tenth place out of 174 total runners. Next boy on the team to complete his run was freshman Isaiah Malone as he ended in place 53 with a time of 18:38.54. Senior Cole Davenport was next in place 83 with a time of 19:17.14. Then was sophomore Zach Ballard in place 91 with a clock time of 19:25.74. Not too far behind was senior Blake Hourigan in place 98 with a time of 19:34.26.
Overall, the boys team placed 13 out of 22 with an average time of 18.45.
The top girl on the team to place in the Central Kentucky competition was freshman Mia MaGuire. She completed her run with a place of 12 out of 117 and ended with a clock time of 20:51.14. Sophomore Emily Tinelli was next on the team as she placed 28 with a time of 21:40.49. Then was senior Lindsey Spencer in place 81 with a time of 24:30.55. Senior Abigail Clarkson finished not far behind in place 86 with a time of 24:58.70.
It takes dedication and motivation to get through a 5k run; practice makes perfect. "What I like most about being on the cross-country team running with some of my favorite people every day and getting better beside them. My biggest motivation to run the 5k's is doing it for the glory of God. Next is to make my coaches, family and teammates proud. I want to be the best I can be every day for them," said MaGuire.
It looks as though the freshman are getting a running start to the season this year on both the girls and boys teams. Their potential for growth has shed light on the possibility of state competitions in the future. "My favorite part about running for East is seeing the team grow and get better every day," said Lesher.
Moving forward the team continues to keep steady times as they run to the finish lines.
On Sept. 8, the team traveled to Goshen, Kentucky to compete in the annual Rumble Through the Jungle 5k competition.
Top boy on the team to place in this competition was Lesher; he completed his run in seventh place out of 217 runners, with a time of 17:57.20. Next on the team was Hourigan in place 133 with a time of 21:03.10. Then was Davenport in place 147 with a time of 21:19.20.
Top girl on the team to place was Tinelli in place 32 out of 157; she ended her 5k with a time of 23:11.40. Next on the team was Spencer in place 102 with a time of 26:25.50. Clarkson completed her run with a time of 27:10.80 in place 108.
So far this year the team has worked hard in practices and competitions in order to improve their times and technique for running. The team will compete next on Sept. 15 in the Trinity/Valkyrie High School Invitational. This competition will be held in Louisville, Kentucky at the Tom Sawyer State Park.