Community Enjoys Light Up Mount Washington Festivities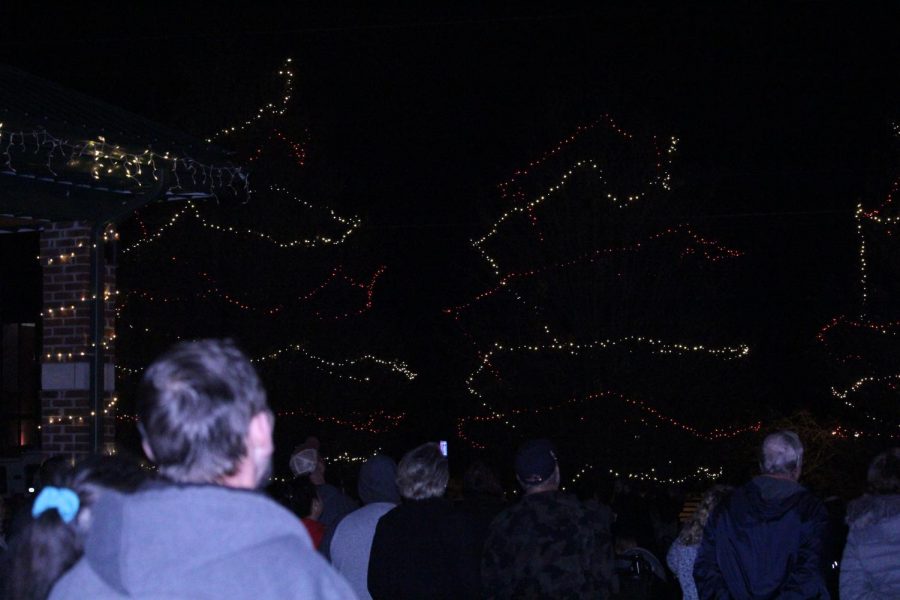 In spreading holiday cheer, local citizens are singing loud for all to hear.
On Nov. 30 local citizens gathered around First Baptist Church for Light Up Mount Washington, an annual event where festive lights are lit to show the beginning of the holiday season.
For the past 12 years, Mount Washington has done Light Up Mount Washington with the help of the event's chairman, Lori Puchino, and her committee. There were several performances from local schools and First Baptist. This year's Light Up Mount Washington was a success and received a high amount of positive feedback.
Lori Puchino and her committee have been planning and making the event happen for eight years and it has resulted in a huge success. Police officer Dan Kelty is a part of Puchino's team and arranges all the activities each year for the event with the help of other city employees. They have to contact school bands and choirs that are scheduled to perform, contact the people who are catering the event, set up the lights, tables, chairs and benches and test the stage equipment for the speeches given. Light Up Mount Washington is one way that Puchino and her committee give back to the growing community of Mount Washington. Members of the community who attended the event were not required to pay for any of the activities that were held.
"It is a massive job to hang that many lights. Our Public Works department has spent many, many hours hanging those lights as well as setting up chairs, tables and staging equipment as well as getting electricity to everything. Lori Puchino and her committee have had to contact the bands who played, contact the people who were in the parade, contact people who were providing food to the event. This is a tremendous undertaking," said mayor Barry Armstrong. Everyone was enthusiastic about all the decorations and eager to see them all light up.
Students from Mount Washington Elementary school were conducted by Bryan Kerr as they performed "Rudolph," "Silent Night" and "Have a Holly Jolly Christmas." Led by choir teacher Carrie Gary, the Bullitt East choir sung a few songs before they were joined by the advanced choir members, and later on anyone from Bullitt East who volunteered. The First Baptist music minister then combined the First Baptist choir with the Bullitt East choir, in which they performed songs including "Joy to the World," "Hark the Herald Angels Sing," "O Come Let Us Rejoice" and "Silent Night." Following the series of Christmas songs sung by local choirs, the parade had begun, with citizens lining the sides of the streets to ensure a close view. Bullitt East had their colour guard and marching band perform during the parade. There was also a lit up firetruck as well as a horse-drawn carriage featured in the parade.
"I've become a better person and musician ever since I've been apart of the Bullitt East marching band. I've learned how to work with people, I have made more friends, I learned how to practice and I have learned a lot more about music as a whole," said sophomore Ashlee Marksbury. The crowd enjoyed the band performance as it received tons of applause.
Light Up Mount Washington is an event for people of all ages to enjoy. The type of community members who attended the event ranged from babies in strollers to elders in wheelchairs. This year's turnout is estimated from around 1,500-2,000 people.
"There were older adults, middle-aged adults, many children of all ages and babies in strollers.  I saw people in wheelchairs and on crutches. This was an event for everyone and was meant to be enjoyed by all," said Armstrong.
The main event of this year's Light Up Mount Washington was when two local companies stepped up to donate 10 bicycles and bicycle helmets that were given away at the drawings, which was an opportunity for attendees to place their names in a box for a drawing to win gifts that took place at 8:30. Other events include candy cane making, pictures with Santa, face painting, balloon making, Live nativity scene and a petting zoo.
During Light Up Mount Washington, Armstrong gave a speeach that acknowlegded and thanked several people for putting in their time and effort into Light Up. Those who he thanked included  Lori Puchino, Dan Kelty , John Tappan, Jake Lynch, First Baptist Church, Mt. Washington Lions Club, Mt. Washington Lioness Club, Mt. Washington Fire Department and the community as a whole.