Seniors Slam Home the Win in Rocketball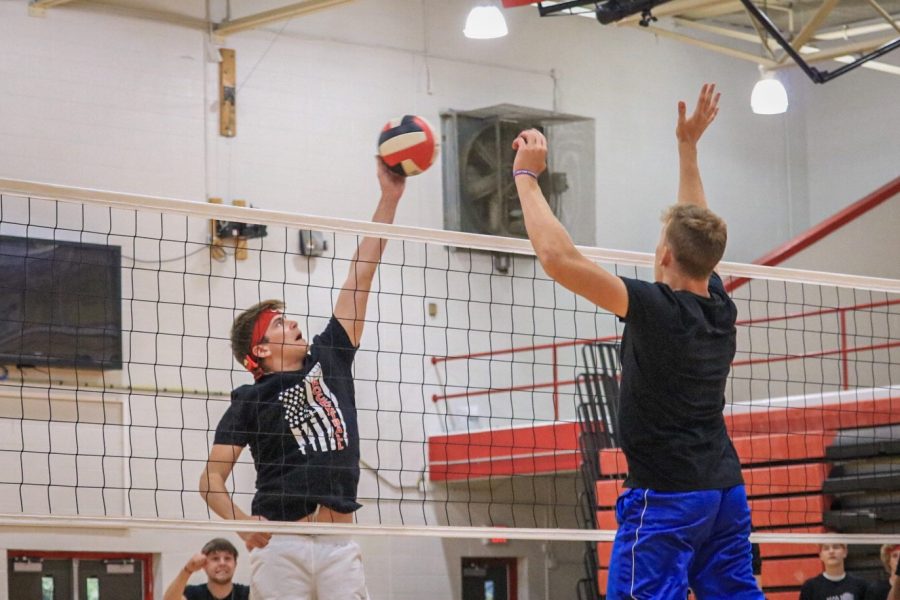 The annual homecoming tradition ends with a bang. 
On Monday, Sept. 16, the seniors won the rocketball championship in a close match against the juniors. 
The tradition of rocketball has been going on for around 10 years and is a big deal around the school. There was a lot of competition between the four grade levels. The seniors will play the teachers during the homecoming pep rally Friday, Sept. 20.
Rocketball is a tournament held every year during homecoming week where boys of each grade level who wish to participate compete against one another for a trophy.. It is taken very seriously and many students look forward to participating every year. "We treat the games like they're just business but at the same time we know how to have a good time while we do it," said senior T.C. Etherton.
The tournament started off with a match between the freshman and sophomores. The sophomores won the match in the second set with a score of 21-12. They advanced to play the seniors who beat the juniors in two sets as well. In the losers bracket, the freshmen and juniors played two sets and the juniors won both. They advanced to the losers bracket championship. 
Competing for the winners bracket championship, the seniors and sophomores played in a set to 25 that the seniors won 25-23. After being knocked into the losers bracket, the sophomores played the juniors in a match to 15. The juniors won and advanced to play the seniors once again. In a three-set match, the seniors beat the juniors 16-14 in the final set to win the tournament. 
Last year as juniors, this year's seniors won the tournament. With the pressure this year of protecting the title, they stepped up and refused to lose against any competition. "At this point, it was expected. We beat the seniors last year so we were expected to be the top dog and we delivered, of course," said Etherton.
A new rule change has been made this year that affects the homecoming pep rally. From now on, every senior class will play the teachers during the pep rally instead of the winners of the tournament like it was in the past. "I think it takes the competition away from the game and I hope they go back to the normal way next year. The rule was only put in place because we beat last year's senior class and they cried for days," said Etherton.
The seniors will play against the teachers in a game of rocketball Friday, Sept. 20 during the pep rally for homecoming.