Remembering the Crocodile Hunter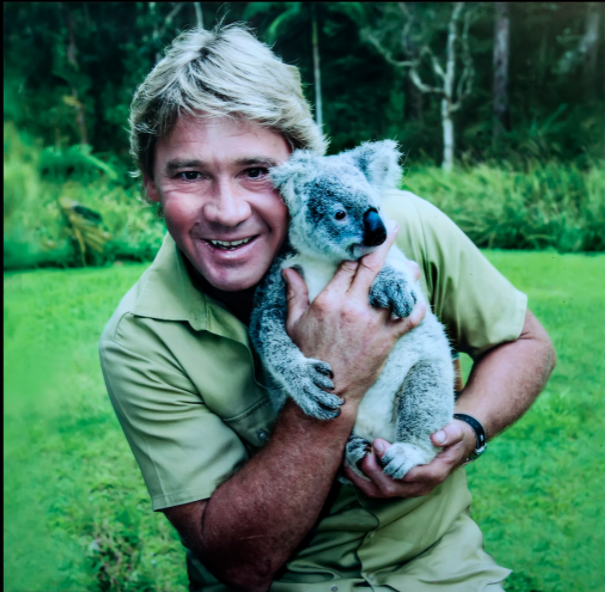 "I have no fear of losing my life – if I have to save a koala or a crocodile or a kangaroo or a snake, mate, I will save it," said Steve Irwin.
Up until his unexpected death, Steve Irwin, crocodile hunter and TV personality, dedicated his life to saving and helping animals.
Irwin spent all of his time doing everything he could to preserve wildlife. The impact he left behind is something that couldn't be contained within Australia alone, spreading all around the globe. To make sure that his name and work is forever remembered, people from all around the world come together Nov. 15 to celebrate Steve Irwin Day. 
Irwin's mom, Lyn Irwin, would take in injured and orphaned animals to give them the proper care that they needed. Growing up in a home with a large variety of animals that needed care, it was natural for Irwin to pick up a love and passion for wildlife, especially crocodiles. When he was 12 years old his family moved to Queensland, where his parents started the Beerwah Reptile and Fauna Park in 1970. He worked there with his parents until he met his wife, Terri Irwin, which would lead to them putting their hearts for wildlife together to expand research and protecting all wildlife, not just saltwater crocodiles.
Together Steve and Terri grew the Australia Zoo. When they took control of the zoo it was just on four acres of land, now the zoo sits on over 100 acres of land. To make sure that people are properly educated on all types of wildlife, the zoo makes it a point to have a hands-on experience with the animals. The hands-on experience helps to attack the misconception that animals that look or sound intimidating don't need protection or that you can't help them. "You don't have to want to hug everything, but you do need to protect everything," said Terri Irwin on, "Crikey! It's the Irwins."
One of Steve's biggest contributions to wildlife conservation is bringing attention to the epidemic of poaching and trophy hunting. According to the Humane Society International, more than 200,000 endangered animals are killed per year due to trophy hunting. To take action, the Irwins took their passion across Australia's borders to set up conservation sites in areas that are home to the largest victims of trophy hunting. The Irwins have conservation sites in Sumatra dedicated to tigers, elephants and orangutans, a conservation in Cambodia for elephants, a conservation in Kenya for rhinoceros and Tasmanian devils, conservation in South Africa for cheetahs and grey nurse sharks. 
Within the walls of the Australia Zoo, they work towards rebuilding endangered species in the wild with their breeding program. The program allows the zoo to breed animals that can be later released into the wild to rebuild their population on their own. Knowing that the war against trophy hunting is a global, Terri and Steve created an organization known as the Wildlife Warriors to get people who are passionate and care about animals from around the world involved in the care and protection of threatened or endangered wildlife. 
Most people know Steve from his show, The Crocodile Hunter. According to a poll conducted on the Livewire's Instagram page, 54% of people who responded said that they watched Steve's show growing up while 46% of them did not. "I remember watching him with my dad and thinking that his job is cool. It made me have more knowledge about animals and how they are in their habitat. It helped to view wildlife animals as more than just dangerous animals because a man was able to get that close to one," said Hanna Decker, sophomore.
Despite having such an influence on many people's childhood, not that many people are aware that Irwin has a global holiday dedicated to him because he is someone that people have left in their childhood. He might not be remembered by name, but his legacy is something that is always remembered when you hear someone bring up the crocodile hunter. "I don't think many people know because they might have forgotten about him until they heard his name again," said Decker. 
Just because Irwin's legacy isn't as prevalent here in Mt. Washington, that doesn't mean the rest of the world falls short on the celebration. The Wildlife Warriors and Australia Zoo host two gala dinners. One in Los Angeles, California and one in Brisbane, Australia. The gala dinners are hosted to honor Irwin and legacy by having a dinner, dancing, auctions, entertainers, guest speakers and more. All of the ticket sales from both dinners go back to the Wildlife Warriors organization. On Nov. 15, Steve Irwin Day, the Australia Zoo hosts activities involving guest performers, lorikeet races, pony rides and much more. One of the main events is Robert Irwin and Bindi Irwin following in their father's footsteps by feeding the crocodiles. The zoo even offers a 10% discount on the entry fee if you wear khakis to the event. 
The celebration and remembrance of Steve Irwin and the contributions he made to wildlife conservation aren't only contained to one day a year. His work is something that is remembered every day by millions of people all around the world. Steve's physical absence in the world is what makes the relevance of his spirit and personality much more vital to his legacy with wildlife conservation. "With everything that we do we're ultimately trying to continue dad's legacy. We really are kicking the goals that he originally set," said Robert Irwin.