The Road to Glory Cut Short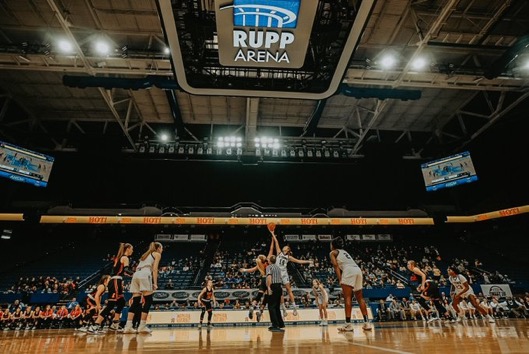 A year with no true winner.
Due to the recent coronavirus outbreak, the girls basketball state tournament was cancelled before the team could play their Elite Eight game.
The Lady Chargers recently won their 6th region title over Butler Traditional High School. Winning that game meant a lot to the program. It was their first regional title since 2004. The regional title also meant they would play in the state tournament in Lexington. 
In the Sweet 16, the ladies went up against Elizabethtown (E-Town) Wednesday, March 11. They battled the whole game and fought adversity and came out with a 66-55 victory. They were scheduled to play Ryle High School in the next round two days later.
Unfortunately, the state tournament had been canceled due to the coronavirus pandemic Thursday, March 12. The school had planned to travel back to Lexington on pep busses once again so the Redzone Rowdies could cheer on the Lady Chargers. The news was devastating to the school and more specifically, the team and it's seniors. 
Senior Lexi Taylor, in specific, was completely heartbroken and upset finding out about the tournament being canceled. She said, "I was really upset and honestly just speechless when I first heard the news. Finding out I played my last high school game without even knowing was devastating." With her successful career with the Lady Chargers, she wanted to add a state title to her long list of accomplishments. 
Most people thought that the tournament should not have been canceled or even postponed since it had already started. The players feel that it was unfair and would have been okay with finishing the tournament if it meant that they would have had to play with no fans. That was the original plan by the Kentucky High School Athletic Association (KHSAA) committee but early Thursday, they decided to completely cancel. "If we hadn't started the tournament it would be one thing, but now since it's already started and we are so close to winning it all, they should let the tournament play on," said Taylor. 
This team was something that the school had never seen before. "I feel like every single one of us was really close and we just had a great bond on and off the court," said Taylor. The true meaning of sisterhood was within this team. They gave it all for each other day in and day out. They were the first team in program history to make it past the Sweet 16 with a record of 27-5. The team still had a lot of fight and them and had the potential to compete for a state championship had the tournament not been canceled. Although the season is canceled, the story hasn't come to a close for this team.