Finally Back on the Field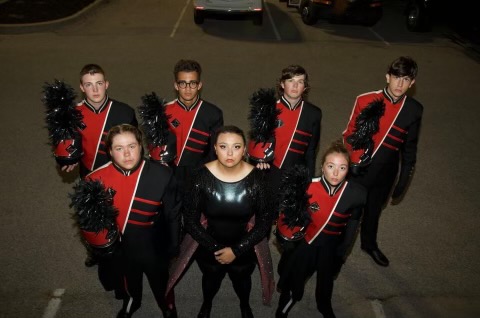 The first step into a new season. 
The marching band had their first football game performance Sept. 10 and also had their first competition Sept. 11.
The marching band hasn't been able to perform at a football game in over two years. Many band and color guard members were excited to finally get back into a normal season with the football game and also their first competition of the season. Although the marching band didn't place at the competition, it's their first competition and they have many competitions to come. 
The last football game that the band was able to perform at was during their 2019 season and a lot has changed since then. People have graduated, others have joined in, and there have been a couple of band director changes so getting back into the rhythm of a season was interesting. "It was definitely exciting to get back onto the field but also nerve wracking because we, just the entire band itself, hadn't done this in so long," junior and guard member Skylar Braden said.
Not only did they perform at the football game's halftime show, they also had a competition that Saturday. It was the first one of the season and many were excited to get back into the competitive world. "It felt really good being on the field for the competition for the first time," sophomore Keatin Roach said. It was his first time marching on an actual field for a competition, just like many others in the band as well. 
The band didn't place during the competition, but this helped get them backing into the sense of competing. Getting back into competitions with new members and even old ones who haven't had a real season in a long time makes it difficult when you have to relearn some important parts of it. "I'm excited to add more to the show and just get better at what we do," Roach said. The band is excited to continue their season and try again at their next performance. 
Their next football game performance will be Sept. 17 and their next competition will be Sept. 18.