Bake Sale Ready Vanilla Cupcakes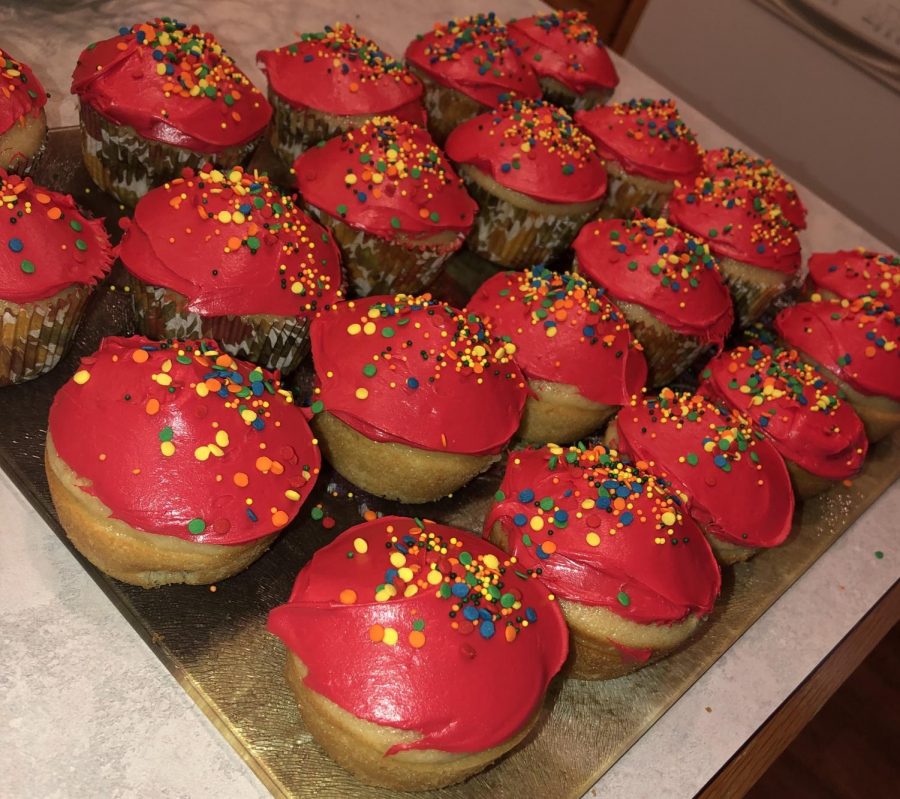 Vanilla Cake
Servings: 24 cupcakes
Prep time: 15 minutes
Cook time: 15-18 minutes
Total time: approx. 30 minutes
Ingredients
2 ½ cups all purpose flour

2 cups of sugar

3 tsp baking powder

1 tsp salt

1 cup milk

½ cup vegetable oil

1 tbsp vanilla extract

2 eggs

1 cup water
Recipe
Preheat oven to 350.

Mix the dry ingredients in a large bowl (flour, sugar, baking powder and salt.)

Mix wet ingredients in a medium bowl (milk, vegetable oil, vanilla extract, eggs and water.)

Take the wet ingredients and slowly mix into the dry to make your batter. 

Line your cupcake pans with cupcake liners and spray with canola oil, to prevent them from sticking. 

Pour batter into the cups filling them about ¾ of the way. 

Bake for 15-18 minutes or until fully baked. 

Cool.

Ice and decorate accordingly. 
Vanilla Frosting
Ingredients
1/2 cup salted butter, room temp
1/2 cup shortening
4 cups powdered sugar
1/2 tsp vanilla extract
2 tbsp of milk
Recipe
Combine the butter and shortnening in a large mixing bowl, mix until smooth.
Add 2 cups powdered sugar and combine.
Add the vanilla extract and 1 tbsp of milk. Mix.
Add remaning powdered sugar and milk, continue to mix until smooth.
Chill frosting and decorate.
Tips and Tricks
Do not eat uncooked batter with raw eggs, it could make you sick.
If you do not have cupcake liners, spraying the pan itself works just as good.
If making cupcakes for a bake sale, make sure to have packaging. I use fold top Ziploc bags tied with curly ribbon.
Box cake mix and store-bought frosting will work just as well.
To change the color of your frosting fold food coloring into the mix. (I used red.)