The Marching Band's Season is Close to an End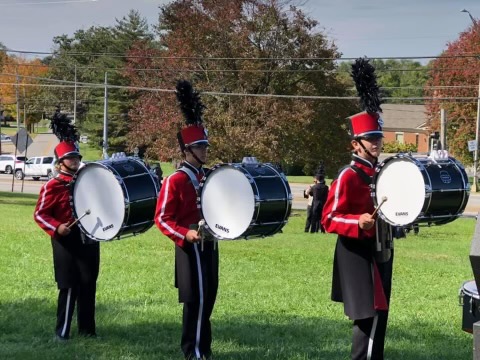 Making it count.
The marching band's season is getting closer to ending so the students are giving their all at their last few performances. 
The students felt like this competition wasn't their best they could have done but are still grateful for the experience of performing. After this competition, the band members are starting to realize that they only have so much time left with this season. The next competition for the band will also be their last and it feels like it's coming too soon for the marching band members. 
For this competition on Oct. 23, the marching band were up against some of the more well known and larger high school bands. Even though band competitions are supposed to be equal and make it fair for each band, it's easier to win if you have a larger band which East does not have this year. "We weren't trying to be downers but looking at the list of people that were attending this competition, we just knew that we probably weren't going to get far," junior colorguard member Skylar Braden said. The band did not place high enough to make it to Semifinals, they still got an extra weekend to prepare for their next competition. 
 After this competition, the band only has two weeks left until their last competition and it's becoming very surreal. "It feels like the season just started, it's crazy," junior colorguard member Kiara Warren said. Two weeks might seem like a while but for the band, it can move fast with all of the practices they have left. "The season ending soon just seems so weird because it's lasted for so long," Warren said. With the band's remaining two weeks they hope to make it count and continue to keep up the work on their show. 
Their next competition will also be the band's last performance which is always hard, especially on the seniors. "Knowing that this band competition is my last as a high school student makes me very emotional. I always knew this day would come eventually, but I never really comprehended how fast," senior marching band member, Mason Roach, said. Even though it might be their last, it's always exciting because they get to stay overnight for this last competition. "I'm thrilled to continue the wonderful traditions that happen every year at this competition," Roach said. They look forward to performing and hopefully placing well at this next competition.
The band will perform at their next competition at Miamisburg Highschool in Ohio Nov. 6.