Cavaliers Advance to the Finals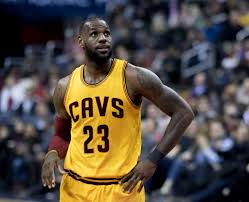 This is the fourth year in a row that Cleveland has made the NBA finals.
Lebron James plans to carry the team on his back this time and do it alone. This is the first time in four years the the Cavaliers do not have three all-stars. Fans just have to wait and see how Lebron and Kevin Love do without Kyrie Irving this year. The seven game series against the Boston Celtics was a nail bitter but once again Lebron comes out on top.
This year Lebron seems to be on his own as the Cavaliers traded most of their team earlier this year to go younger. It seems that Lebron is doing it all playing 40 minutes a game and carrying the team on his back. Lebron keeps proving himself and telling all those against him wrong, making the Finals nine years in a row.
Boston put up a good fight but Cleveland was just too much for the young team. It will be interesting to see a healthy Celtics team next year because even without Kyrie Irving and Gordon Hayward the team still made the conference finals. Lebron and the Cavaliers experience outweighed the Celtics though taking them out in game seven.
This is the first year in a while that the Cavaliers do not have a star point guard. This could ruin the Cavaliers chances of snatching another ring. After trading Kyrie Irving and Isaiah Thomas it seems that they are left with the bare minimum. Fans can only hope that Lebron James and Kevin Love pull through.