Eastern Conference Finals Matchup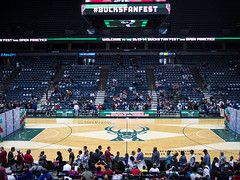 A very competitive eastern conference finals.
The Raptors and Bucks are at 3-2 right now in the series.
Toronto has taken the last three games in the series after being down 0-2. The Bucks have high hopes of taking the series to game seven. Kawhi Leonard's free agency decision could heavily affect the future of Toronto. Milwaukee hopes to make their first finals appearance in a long time.
With Toronto's win to bring the series 3-2, the Bucks have a lot of pressure going into game six. It's win or go home for Milwaukee. Giannis Antetokounmpo has lead this team to the one seed but it all comes down to what he does in game six. Leonard has been outstanding this playoff series leading the Raptors past the 76ers.
The Raptors making it to the finals would definitely increase their odds in keeping Leonard in free agency. With rumors of Leonard leaving to go to Los Angeles, the Raptors need to prove to him that this is where he needs to be. Leonards controversial ending with the Spurs does not particularly put him as a loyal player. The Raptors would need to make a stance to keep him.
The Bucks have a lot less to lose if they do not make it to the finals. They don't have a lot to lose in this years free agency and will likely come back next year with a very similar team. They have a young core that continues to improve every year. Just as it seems that Antetokounmpo is doing his best he comes back and tops it. Milwaukee should be seen in the playoffs for years to come so a finals appearance this year would be impressive but not entirely necessary.