76ers New Look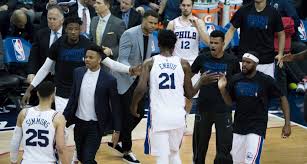 The process has worked well.
The 76ers have improved their team a lot in the last season.
Acquiring Jimmy Butler and Tobias Harris makes Philadelphia's starting lineup pretty scary. At the beginning of the season the 76ers traded for Jimmy Butler from the Minnesota Timberwolves. At the trade deadline Philadelphia traded to get Tobias Harris from the Los Angeles Clippers. Trade deadline trades helped the 76ers improve their bench. After years of 76ers fans saying to "Trust the Process" the team is finally looking like a true contender.
The Timberwolves had a rough start to the season due to Jimmy Butler causing chemistry issues. The all star caliber player in Butler had requested a trade and refused to sign a contract extension with the team in the off season. This led the 76ers to make their first big trade of the year. The 76ers had to give up a few key bench players including Robert Covington and Dario Saric. In the trade Philadelphia also gave up Jerryd Bayless and a future second round pick. The 76ers received Justin Patton and Jimmy Butler, which was a huge acquisition by Philadelphia.
Trade deadline is the time for major trades. The 76ers took major advantage this year acquiring Tobias Harris and Boban Bogdanovic for little to nothing. Harris has been having an amazing year with the Clippers so far averaging about 20 points a game while putting up good rebound and assist numbers. If Harris can carry his game over to the 76ers well, Philadelphia can be a scary team in the playoffs.
The 76ers roster after the deadline is looking new but scary. Trading 2017 first round pick Markelle Fultz was needed as he did not do well proving himself to the team. Acquiring a pick and Jonathan Simmons helps both the teams future and their current bench. Philadelphia was already known for having a good reserve team but now adding Bogdanovic and Simmons the team still has great assets coming off the bench.
Philadelphia has struggled through past seasons as rebuilding the team was expected to take way longer than it did. Through trading all current assets for future picks helped Philadelphia in the draft to get players such as Ben Simmons and Joel Embiid. Some draft picks by the 76ers slowed down the rebuild though such as selecting Nerlens Noel and Markelle Fultz with their first round picks in 2 different drafts. The team has really pulled together though, and a 2019 championship run is not out of the books.