Portland Takes on Golden State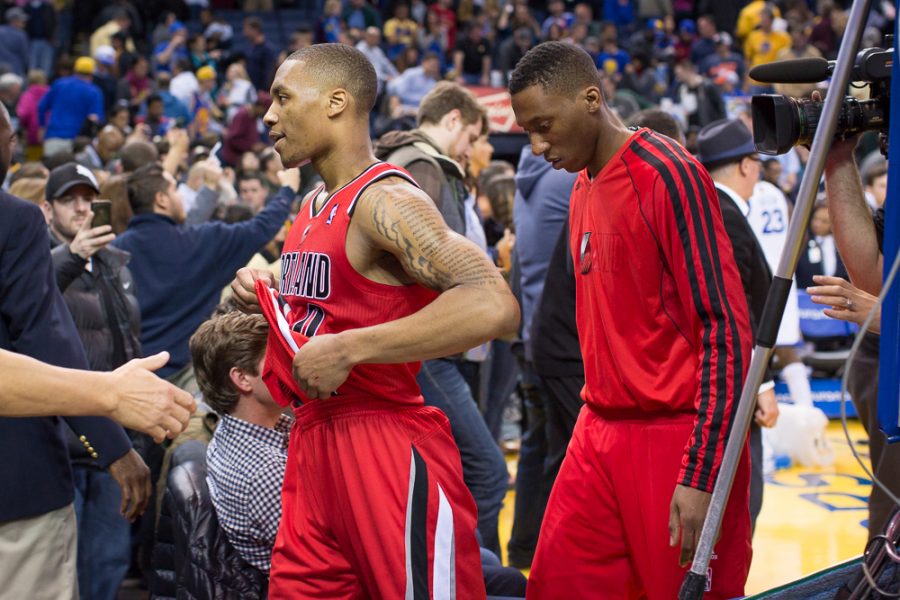 Trail Blazers look to be the winning underdog.
Portland has far less star talent but still hopes to beat the warriors in the conference finals.
The Trail Blazers have come a long way from last year. Injuries could be the only thing preventing the Warriors from winning the series. Damian Lillard and CJ McCollum are Portland's only hope in defeating the warriors. Even without Kevin Durant and Demarcus Cousins, the Warriors are an 73 and 9 team.
Damian Lillard has stepped up as a true team leader over the season. With many clutch shots and game winner, Lillard is the star of Portland. CJ McCollum has also taken on a much larger role on the team. It is very clear that these two are the reason they are in the conference finals. Lillard has put up amazing stats this season and could be considered as an MVP candidate. McCollum has still come a long way from his most improved player days. McCollum seemed to shine more than Lillard in the last couple games of their series against the Nuggets.
Golden State has suffered many injuries through the playoffs so far this year. Kevin Durant is out for the first part of the series with his calf. Curry is still playing with a dislocated finger but that is hardly effecting him. Demarcus Cousins is still out but plans to return soon. This has been the Warriors biggest downfall. The five alls stars never seem to be able to play together due to the amount of injuries on the team. They still took out the Rockets 4-2 though as Klay Thompson and Curry really stepped up like they did in 2015.
Portland has come a long way from last year. Losing to a mediocre Pelicans team 0-4 really put a dent in the teams reputation. This year the team took the third seed and has already beaten the Nuggets at second seed in seven games. It seems they really found a rotation that clicked and led the team to success. The loss of Jusuf Nurkic earlier this season with an injury really hurt their chances but they pushed on without him. The signing of Enes Kanter really helped them get a defensive edge in the playoffs though. The team is hoping to defeat the Warriors and make it to the Finals.