Thunder Go Against the Odds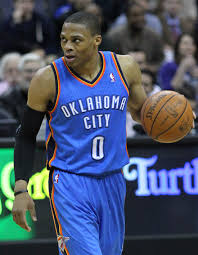 From Taking a loss in the first round to a top team in the west.
The Oklahoma City Thunder are making a huge comeback this season after a disappointing season last year.
Paul George has had an amazing season and is in the MVP race. The Thunder have really improved their team in this last offseason. The amount of depth the team has helped them alot. The team could be a serious championship contender.
One player that has really stood out in the NBA this year is Paul George. After George' major injury he struggled to come back to his former self for a couple of seasons. Also with Carmelo Anthony's play style on the team last year it was harder for George to play at his best. This season George has had multiple 40 plus point games and has helped the Thunder be where they are today. Without him it is hard to see the team as a contender.
In this previous offseason the Thunder made a lot of moves. Trading away Carmelo Anthony was a major improvement as it seemed that Anthony was negatively affected the teams play style. Acquiring Dennis Schroder helps improve their bench also as he was a good starting guard for the Hawks. The team immediately saw the effects of this off season by looking like a whole new team.
The 2019 playoffs is looking scary with the Thunder as a top team. With George coming off this amazing season and Russell Westbrook doing the usual, this team could be scary. The team's loss to the Jazz last year was a major disappointment. The Thunder have really bounces back since then and with the likelihood they play the Jazz in the first round again this year, its hard to think the same thing might happen.