Cross Country Regionals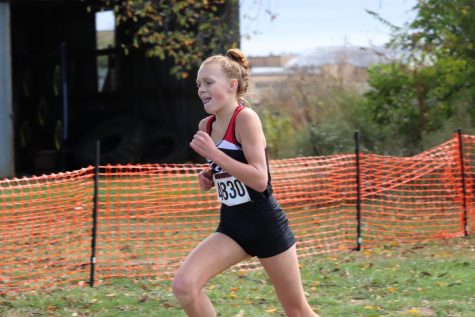 The Kentucky High school Association Region 3 Class AAA meet was Saturday, Oct. 24. They had a great run with a few state qualifying runners.
The team had one boy and seven girls qualify for state. They hope to end with a win on Oct. 31.
The top finisher for the boys was junior Isaiah Malone who placed twelfth with a time of 17:26.17. He is the only boy to qualify for state on the team. The others following were senior Alex Christmas, freshman Bryce Hogan, junior Tyler Bass, junior Dakota Cerra, and sophomore Jake Swift.
The top finisher on the team for the girls was seventh-grader Alex Egan who finished second with a time of 19:29.78., followed by another seventh-grader Savannah Mooney who placed eighth with a time of 20:24.73. After that, senior Emily Tinelli placed thirteenth, seventh-grader Abi Stevenson placed eighteenth, junior Mia Maguire placed twentieth, seventh-grader Makayla Meyer placed twenty-second and right behind her in twenty-third place was junior Emma Egan. The state meet is Saturday, Oct. 31.