Rockets Carry a Losing Record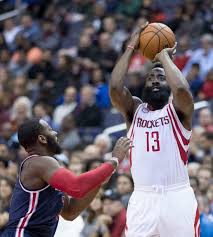 Houston's Rocky start to the season.
The Rockets begin the season going 11-13 with some chemistry issues.
Houston made the western conference finals last year but this year it seems they are having some trouble with some adjustments to their roster. Even after telling Carmelo Anthony he wasn't a good fit for the team, Houston continues to struggle in the west. Even with a stacked conference there is no reason this team should be doing this bad, 13 seed is a horrible spot to be placed even this early.
After losing to the Golden State Warriors in last years western conference finals, fans were hoping the Rockets would bounce back with a better team this year to finally make it to the finals, but their record says otherwise. Losing Trevor Ariza and Ryan Anderson were mainly trader to try to free up some salary cap room, but it seems the loss of these players is really hurting the team. Even with Eric Gordon, Chris Paul, James Harden, and Clint Capela as the main stars of the team, as they were last year, the struggles continue.
Carmelo Anthony may have seen his last NBA game ever according to some NBA analyst. Anthony started off the season as a bench player for the Rockets and was expected to start. Anthony has been blamed for a lot of the problems Houston has this year but after seeing what has continues to happen, fans may have put the blame on the wrong person. The team looks to trade or release Anthony after telling him he would not play anymore.
The western conference is very stacked with almost every team fighting for a playoff spot, except for the Phoenix Suns, the battle in the west is ridiculously close. With all-star Lebron James joining the conference the competitiveness has risen. The 6 through 13 seed is very tightly contested and most rankings are decided by one game which could lead to Houston being put at the bottom of the list. Most are speculating the Houston just needs one more piece to get back to where they were. Fans hope that they can resolve their issues and go for a winning record.